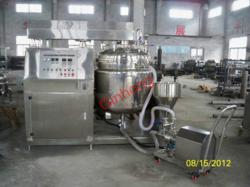 Jinhu, Jiangsu Province (PRWEB) November 28, 2012
Ginhong is a Chinese based company which designs and manufactures the emulsion mixer. Their newly designed smaller version of the vacuum emulsion mixer can be of great service to those companies which need to manufacture smaller amounts of products.
China based Ginhong is a worldwide leader in the creation and sales of various types of high quality mixing machines. Products are designed and manufactured on location by expert engineers. The RB vacuum emulsion mixer is the latest developed by this expert team of engineers. It is a smaller version of some of the larger emulsion mixers that are included in their line of products. It is a convenient size and price for companies who need to make smaller batches.
The vacuum emulsion mixer is comprised of several components. It has a main emulsifier mixer, an oil phase mixer, vacuum system, water phase mixer and a pneumatic lifting system. It also has other critical components such as the temperature control system and the electrical control panel. This unit is specifically designed to handle a capacity of 50L to 5000L. It usually doesn't have the tilting system which makes it easy to remove the cream when the process is complete.
The emulsion machine is used to make a wide variety of products. Features can be viewed on the company website at http://www.ginhong.com/. The mixer is used by pharmaceutical companies to make ointments, syrups and for use in injections. Chemical companies use the machine to manufacture products to be used in shoe cream, synthetic fiber and polyester. The food industry uses them to make mayonnaise, butter, margarine, wasabi, jam and dressing.
About Ginhong
Ginhong had a small beginning in Jinhu, Jiangsu Province of China. However, the company was very successful and soon outgrew the small facilities. They moved the company to a larger facility that could handle the expansions. Engineers design, engineer and manufacture mixing machines in their facility. They are purchased by companies all over the world who use them in a wide variety of ways.