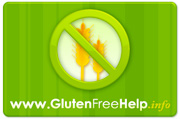 I'm an avid reader of the publication myself, and it's such an honor to see my writing included in it.
Los Angeles, CA (PRWEB) November 26, 2012
Miranda Jade Turbin, the celebrated celiac advocate behind the internationally-recognized, award-winning website, GlutenFreeHelp.info, has become a contributor to the Journal of Gluten Sensitivity, a highly-esteemed quarterly publication. Miranda Jade has become widely respected in the celiac community and is considered to be in the ranks of celiac experts who have been in the gluten-free advocacy arena much longer than her.
"I'm an avid reader of the publication myself, and it's such an honor to see my writing included in it," said the prolific gluten-free researcher, writer, and blogger.
The Journal of Gluten Sensitivity, edited by co-author of Cereal Killers, Dr. Ron Hoggan, is a quarterly paper and online publication offering a wide array of articles about celiac disease, gluten sensitivity and the gluten-free diet. The new publication has a long, reputable history under its original name, the Scott-Free Newsletter, which has published 28 issues since 2002 and has accumulated tens of thousands of subscribers. According to Celiac.com, "Scott-Free Newsletter offered the most in-depth and accurate information on celiac disease, gluten sensitivity and the gluten-free diet, and Celiac.com will continue this tradition under its new namesake."
Miranda Jade has joined the publication's reputable list of contributors, comprising laypersons as well as scientific and medical experts, with her article, "Introducing Gluten to Your Infant."
Miranda Jade Turbin was finally diagnosed with celiac disease and dermatitis herpetiformis (DH), also known as the "gluten rash," as a young adult after a childhood full of misdiagnoses. After becoming strictly gluten-free, Miranda Jade experienced the relief of all her symptoms and became passionate about helping other celiacs and gluten-sensitive people get properly diagnosed and adapt to the gluten-free diet. She teamed up with her mother, multi-award-winning children's author and celiac Tina Turbin, to manage Turbin's acclaimed gluten-free resource website, http://www.GlutenFreeHelp.info, which was voted the #2 .info website in the world out of over 6 million registered .info sites. One year later, Miranda Jade was announced the official partner of the site in January 2012.
Miranda Jade writes prolifically about celiac disease issues in blogs, articles, and eBooks and has developed an enormous collection of celebrated gluten-free and grain-free recipes. Her articles have appeared on major celiac support websites including celiac.com and celiac.org. Recently, Miranda Jade has earned recognition for her gluten-free labeling support by major organizations such as the Celiac Community Foundation of Northern California, who prominently listed her and her award-winning website on their GF Labeling Supporters board on Pinterest.
"It's been so rewarding to see the difference I'm making in the celiac community with my writing," said Miranda Jade. "I definitely plan to submit more articles to Journal of Gluten Sensitivity in the future as well to other important publications!"
###
TO BOOK MIRANDA JADE TURBIN FOR AN INTERVIEW OR SPEAKING ENGAGEMENT: Contact media(at)glutenfreehelp(dot)info.
ABOUT MIRANDA JADE TURBIN, OFFICIAL PARTNER OF GLUTENFREEHELP.INFO Miranda Jade Turbin was finally diagnosed with celiac disease after 18 years--her entire childhood--of repeated misdiagnoses, going from one doctor to the next and in and out of hospitals without any answers. Within two weeks of removing all gluten from her diet, Miranda Jade's life completely turned around. After her experience, she knew in her heart she had to help others as an advocate for celiac disease and gluten sensitivity. Miranda Jade teamed up with her mother Tina Turbin, also a diagnosed celiac and founder of the award-winning website GlutenFreeHelp.info, to this day handling all communications for this very busy website. Miranda Jade has gone on to write numerous eBooks, articles, reviews, and sought-after gluten-free grain-free recipes. Miranda Jade is bicoastal with gluten-free test kitchens on both coasts.
For more information or to schedule an interview, please call Rosie Newman 888-701-6481 or media(at)glutenfreehelp(dot)(info.