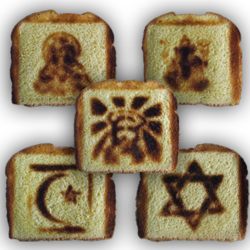 We will run out of toasters before I run out of Twinkies
Danville, VT (PRWEB) November 27, 2012
Twinkies may just be the most popular gag Christmas gift of the season. The bankruptcy and liquidation of the iconic cake maker Hostess has created bazaar opportunities for eBay sellers and kitschy promotions alike. With Twinkies selling on eBay for many times their original price, one Vermont small business tries catching this wave of Twinkies enthusiasm with a "sweet" promotion.
"FREE Twinkies with every toaster purchased." Burnt Impressions CEO Galen Dively says.
Jesus Toasters hit Christmas lists last year with bang from media outlets. "We have grown since last year. Our sales are up and with Christmas comes giving," says Mr Dively, "one man's Twinkies is another man's novelty toaster and I will scrounge eBay and beyond to get more Twinkies if it means getting everyone that buys a toaster this Christmas from us gets one for EACH toaster bought."
Facebook has played a role in Dively's marketing scheme. "JesusToasters.com Facebook Page has been a fun place to play. Something other than just selling cool plastic toasters from China... we enjoy promoting them with humor," Dively adds, "some folks don't get it."
"But a lot of folks do and those that do head to JesusToasters.com for their fix of pop up art." the CEO pitches. Each toaster creates designs on toast from more than twenty available. Each toaster can be personalized with a uploaded photo/picture printed on the front of the toaster.
"We tend to keep it edgy around the burnt pieces. Leaves room for butter fun" Dively concludes.
Burnt Impressions was created in 2010. They are a small company in Vermont offering novelty toasters with numerous images that can be toasted on bread. All designs can be seen at http://burntimpressions.com
Twinkies is a registered Trademark of the Hostess Company and is not affiliated in any way with Burnt Impressions Incorporated.