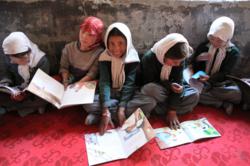 There are a number of initiatives all over the country to promote education and learning, but very little reach remote areas of Ladakh. QNET would like to help ease that burden and support their thirst for knowledge through the RYTHM libraries.
Bangalore, India (PRWEB) November 27, 2012
QNET, a leading Asian Direct Selling company will support the Avalokitesvara Trust's work in Ladakh as part of its ongoing CSR initiatives in India. Avalokitesvara Trust is an effort to nurture and educate children in isolated villages of Ladakh, including those on the Indo-Pakistan and Indo-China borders.
QNET will support this project through its CSR arm, RYTHM Foundation, to establish RYTHM Libraries in 15 rural schools in Ladakh. Most schools in this region do not have adequate facilities for educational support. Children in these schools have very limited access to reading material and their lives are typically limited to the remote, mountainous terrain where they live. With the establishment of the RYTHM libraries, QNET and Avalokitesvara Trust aim to empower these children with the gift of learning, by providing access to previously-unavailable learning materials.
The project will see the installation of libraries and spaces for effective learning in existing private, government, and monastic schools.
Some of the key inititiaves under the project are:

Sourcing and collection of children's books for libraries in schools;
Designing, installing and furnishing reading spaces in existing schools;
Conducting learning modules, art and drama workshops in schools;
Providing children with games, toys, sports equipment, art and stationery supplies;
Medical camps for vaccinations and treatment for respiratory and skin infections;
Sponsorship of individual children, including tuition fees, annual and boarding expenses;
Empowering Ladakhi teachers with educational resources, teaching aids and training opportunities.
Explaining the rationale behind QNET's support for the project, Suresh Thimiri, CEO of QNET India says, ''A key pillar of the RYTHM Foundation is education. There are a number of initiatives all over the country to promote education and learning, but very little reach the remote areas of Ladakh. Avalokitesvara Trust has undertaken an admirable but uphill task to help these young children, many of whom travel several hours every day to reach their school, or stay in monasteries and meet their familes only once a year. We would like to help ease that burden in some small way and support their thirst for knowledge through the RYTHM libraries."
Abhigya Shukla, founder of Avalokitesvara Trust, says,"We are grateful to QNET's RYTHM Foundation for this support. The project hopes to see children in the rural schools of Ladakh enhancing their learning experience and imagination through the activities and opportunities provided by these libraries. They will gain more insight into worlds beyond the standard curriculum in their schools and the isolated surroundings in which they live. We have already started to reach out to Changtang, an especially remote and deprived area of Ladakh, and hope to extend our work to similarly needy parts of Zanskar and Kargil district in coming years."
About QNET
QNet is one of the world's fastest-growing online shopping and business communities, with upwards of five million customers and independent distributors around the world. The company offers an entrepreneurial network marketing business opportunity and a portfolio of lifestyle products that have been developed to enhance the lives of its customers through innovation, wellness and luxury.
Established in Asia in 1998, QNet utilises the direct sales business model on a proprietary e-commerce platform to market and distribute its exclusive products. The company specialises in both everyday, consumer brands as well as high-end luxury goods. QNet is a member of the Direct selling Association in Malaysia, Singapore & the Philippines. India is one of QNET's fastest growing markets.
For more information please visit http://www.qnetindia.in
About Avalokitesvara Trust
'Avalokitesvara Trust' works on improving educational opportunities and learning environments for children in rural schools in Ladakh. People interested in donating children's books, stationery, educational games and toys, sports equipment, and health supplies can write to avalokitesvaratrust (at) gmail (dot) com
Donations for sponsoring a child or a school library are welcome. The team is also on the lookout for volunteers with or without prior teaching experience to work with the children.
For details, visit http://www.facebook.com/avalokitesvaratrust