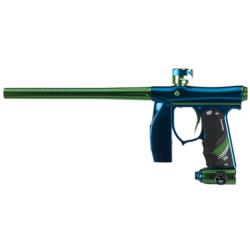 The Empire invert mini is one of the best guns you can purchase this Christmas season
(PRWEB) November 26, 2012
The Empire Invert Mini. Priced at $269.99 for one day only . The invert mini paintball gun, is now the lowest price online at http://www.actioncenterpaintball.com/
Equipped with features usually found on much more expensive markers, the mini features a true elector-pneumatic operating system and a well-constructed body made of light weight magnesium, as well as reduced sound signature for stealth firing, in any of the multiple firing modes. Accessory options are nearly endless, With the Autococker barrel thread, a paintball player can modify this marker from any gun accessory outlet. Internal airline operation eliminates external hoses, which is a must for scenario play. nothing worse than getting hoses stuck in branches. Plus it is smooth light and tight a must for any tournament paintball player features of the mini Empire Invert Mini
The Invert Mini: Fast light tight. But more impressive than the size and feel the Mini boasts some of the hottest new technology to hit the paintball industry in years. If you're ready to experience the next stage of paintball evolution grab a MINI and step ahead.
Features:- Weighs under 2lbs including barrel asa invert Mini might be the lightest and tightest electronic marker available- New patented proprietary PCP Pressure Controlled Poppet operating system- New patented proprietary mini regulator / ASA- New patented proprietary Slipstream solenoid Break beam ant chop eyes Standard- Multi- mode NXL PSP and Millennium firing capability with easy tournament lockout- Clamping feed-neck Special Edition Copper/Black color 1.99 lbs (0.9 kilo) including barrel, bottom line regulator, and 9 volt Outstanding velocity consistency Integrated break-beam anti-chop eyes Multiple adjustable firing modes
Action Center llc
4129w cottonwood rd
Morgan, Utah 84050 801-876-3132 Office location
About Us
Action Center Paintball started with the love of paintball in March of 1992. We had a dream of selling the lowest priced paintball equipment anywhere in the world-wide web and we found a way to do it. How do we do it? We buy HUGE quantities and pass our bulk discounts onto you. We are also not bound by the same map policies that other dealers have. So all these savings and having a huge selection has made us the BEST place to buy paintball equipment. We've been doing this for 20 years now. We know what we are doing and we love it. We've got your guns, goggles, hoppers, clothes, paintball gun upgrades and accessories. We also carry used and high-quality factory refurbished paintball guns and equipment. This is how we became the number one paintball store on the internet. This is how we became your paintball supplier!
In the 20 years since we started, we have seen many changes and we have been at the forefront of all those changes. We were the first field in Utah that implemented field paint. We were the first field in Utah to have all high-pressure tanks on all paintball gun rentals. AND we are the oldest paintball field in the state of Utah. Yeah, we like what we do.
We have so much experience in paintballing that we love answering your questions. If you have any questions about our field or products, give us a call or email us at 801-876-3132 .
Now, let's get another game going!
for more information see us at
http://www.actioncenterpaintball.com/
http://www.paintballguns.tv/