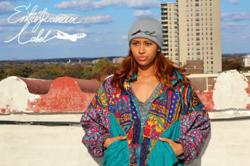 " One of the Most Creative Clothing Ideas in Years "
Newark, New Jersey (PRWEB) November 26, 2012
The jersey based clothing business Entrepreneur Label believes they will reach their kickstarter goal of 20K before the end of year 2012. Founder Anthony Harris says "Entrepreneur Label is so much more than clothing, it's a motivational tool, it's a movement, its way bigger than clothing". Currently as a local label, they create stylish hats that convey a motivational message on the back. Their collections are named "Ambition>", "Perseverance>", and "Dreams>". Each collection stands for a different virtue they believe a true entrepreneur should possess.
Entrepreneur Label is offers some of the most innovative offers for those who pledge to their Kickstarter page. Some offers seem unbelievable! Entrepreneur Label is giving away unreleased products for most pledges under 100.00. For those visitors who really feel generous during the holidays they can find their name as an original founder on the Label's website.
Entrepreneur Label- a clothing line designed to inspire, motivate, and encourage individuals to become entrepreneurs. We correlate our clothing essence around the idea of perseverance and achieving against the odds of everyday life.