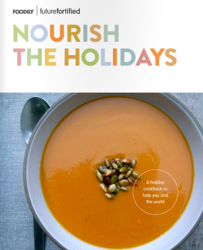 Much like you sprinkle toppings onto your salad, mothers around the world can use home nutrition packets to sprinkle vitamins and minerals onto their children's meals.
Washington, D.C. (PRWEB) November 26, 2012
As people prepare their party menus this holiday season, Future Fortified has teamed up with Foodily, the world's largest recipe network, to create a cookbook full of healthy, holiday recipes to raise awareness about global malnutrition.
"Foodily is proud to partner with Future Fortified to help fight malnutrition by giving mothers around the world access to information and nutritious products," said Hillary Mickell, Foodily Co-Founder and CMO. "At a time when almost 2 billion people are malnourished and hundreds of millions of infants and children do not receive the vitamins and minerals they need to grow and thrive, this work is incredibly important."
The new cookbook features mouth-watering original recipes such as Silky Sweet Potato Miso Soup with Crisp Quinoa and Spicy Chicken Lettuce Cups from 12 Foodily Tastemakers including:

Jessica Alba, Golden Globe-nominated actress & creator of The Honest Company
Kelsey Banfield, chef & author
Cat Cora, Iron Chef, author, restaurateur & co-host of BRAVO's Around the World in 80 Plates
Laurie David, producer & author
Kathya Ethington, food photographer & world-traveler
Mark Hyman, MD, New York Times bestselling author & pioneer in functional medicine
Candice Kumai, cookbook author & food writer
Phoebe Lapine, cookbook author, private chef, & food personality
Marc Matsumoto, food photographer, recipe developer, & marketing consultant
Lisa MCree, former Good Morning America anchor & foodie
Pamela Salzman, L.A. based natural foods cooking instructor & holistic health counselor
Nathan Turner, decorator, TV personality, and lifestyle & entertaining expert
"As people prepare healthy meals to celebrate the holidays with family and friends, we hope they will also consider the millions of mothers around the globe who want to provide the same for their families," said Adrianna Logalbo, Campaign Head for Future Fortified. "This is the perfect partnership to put nutrition on the table in homes across the world."
Poor nutrition is an urgent problem; if children don't get essential vitamins and minerals before they turn two, the damage is irreversible. Poor nutrition is the underlying cause of 1 in 3 childhood deaths worldwide, has led to 200 million children currently physically stunted, and can lower a child's ability to learn, even limiting her IQ by 10-15 points.
There is a simple, lasting solution. Women and children around the world can access essential nutrients through home nutrition packets. The packets make it easy for moms to sprinkle vitamins and minerals onto their children's meals, nourishing them for only pennies a day. This has proven to significantly raise IQs and reduce deadly diseases such as pneumonia.
"Much like you sprinkle toppings onto your salad, mothers around the world can use home nutrition packets to sprinkle vitamins and minerals onto their children's meals," said Phoebe Lapine. "I'm thrilled to contribute to this cookbook and help raise awareness about how easy it is to help children receive the simple nutrients they need to live, grown, and learn."
Tweet this: Nourish the Holidays cookbook from @FutureFortified + @Foodily launches to raise awareness for global #nutrition. #GivingFortified
Media Contact: Amy DiElsi, 215-990-3006 or media@futurefortified.org.
###
About the Future Fortified campaign
Future Fortified is a public awareness campaign of the Global Alliance for Improved Nutrition (GAIN) to enable individuals, businesses, and organizations to help millions of women and children around the world access the essential nutrients they need to lead healthy, productive lives. GAIN supports public-private partnerships to increase access to the missing nutrients in diets necessary for people, communities and economies to be stronger and healthier. With a current reach of over 610 million people in more than 30 countries, GAIN's goal is to improve the lives of 1.5 billion people within the most vulnerable populations around the world through access to sustainable nutrition solutions. For more information, visit: http://www.FutureFortified.org.
About Foodily
Foodily makes it easy to find, curate and share the food you love. Use Foodily to find out what friends want to eat, discover and save foods that meet your eating style or follow friends and food experts that inspire you.
Foodily aggregates recipes from big name chefs on sites like FoodTV to up and coming bloggers. Results are actually presented side-by-side, which makes comparing recipes and ingredients side by side. It also makes searching for a recipe more like browsing through your latest Food&Wine magazine.
Through an integration with Facebook, recipes "liked" on Foodily will appear in your Facebook feed, and recipes your friends like will appear in your Foodily recipe search. Foodily also will allows anyone to create a Facebook event invitation that includes a menu, allowing friends to see what dishes are planned for events like dinner parties or pot lucks. Friends can comment on the menu, share their feedback and add additional dishes they want to bring. Visit http://www.foodily.com and share what you love to eat.