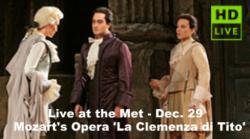 (PRWEB) November 25, 2012
The famous opera, Mozart's 'La Clemenza di Tito' is set for telecast live in HD via satellite to the screen at The Lensic, presented by The Lensic and the Santa Fe Opera from 11 a.m. to 1 p.m. Saturday, Dec. 29, 2012. The virtuosic Elna Garana sings Sesto in Mozart's drama set in ancient Rome. Giuseppe Filianoti is the noble Tito and Barbara Frittoli is Vitellia, in this handsome revival of one of the composer's final masterpieces.
Harry Bicket conducts. This event is presented on the SantaFe.com event calendar.
Synopsis: La Clemenza di Tito
Act I
Rome, first century AD. The Roman emperor Tito is in love with Berenice, daughter of the king of Judea. Vitellia, the former emperor's daughter, feels that she should hold the throne herself and asks her young admirer Sesto to assassinate Tito. Though he is a close friend of the emperor, Sesto will do anything to please Vitellia, so he agrees. When Sesto's friend Annio tells him that Tito, for reasons of state, will not marry Berenice, Vitellia becomes hopeful again and asks Sesto to put off the assassination plot. Annio reminds Sesto of his own wish to marry Sesto's sister Servilia. The two men affirm their friendship.
At the forum, the Romans praise Tito. The emperor tells Annio and Sesto that since he has to take a Roman wife he intends to marry Servilia. Diplomatically, Annio assures Tito that he welcomes his decision. Tito declares that the only joy of power lies in the opportunity to help others. When Annio tells Servilia of the emperor's intentions, she assures him of her love.
In the imperial palace, Tito explains his philosophy of forgiveness to Publio, the captain of the guard. Servilia enters and confesses to the emperor that she has already agreed to marry Annio. Tito thanks her for her honesty and says he will not marry her against her wishes. Vitellia, unaware that Tito has changed his mind, furiously insults Servilia and asks Sesto to kill the emperor at once. He assures her that her wish is his command. After he has left, Publio and Annio tell Vitellia that Tito has decided to choose her as his wife. Vitellia desperately tries to stop Sesto but realizes it is too late.
Sesto has launched the conspiracy and set fire to the Capitol. Full of shame, he runs into Annio, evades his questions and rushes off. Servilia appears, then Publio, and finally Vitellia. They are all searching for Sesto and believe that Tito has died. Sesto returns, looking for a place to hide. He is about to confess his crime but is silenced by Vitellia.
Act II
In the palace, Annio tells Sesto that the emperor is still alive. When Sesto confesses his assassination attempt but refuses to give any reason, Annio advises him to admit everything to Tito and hope for forgiveness. Vitellia rushes in, begging Sesto to flee, but she is too late: a fellow conspirator has betrayed him, and Publio enters with soldiers to arrest him. Sesto asks Vitellia to remember his love.
The Roman people are thankful that the emperor has survived. Tito struggles to understand the conspirators' motives and doubts Sesto's disloyalty. Publio warns him against being too trusting. When it is announced that Sesto has confessed and been sentenced to death by the Senate, Annio asks Tito to consider the case compassionately. The emperor will not sign the death decree until he has had the chance to question Sesto himself. Alone with Tito, Sesto assures him that he did not want the throne for himself, but he hesitates to implicate Vitellia. Tito, not satisfied with this explanation, dismisses him. Sesto asks Tito to remember their friendship and is led off. The emperor signs the decree, then tears it up: he cannot become a tyrant and execute a friend. He cries out to the gods, saying that if they want a cruel ruler, they have to take away his human heart. Servilia and Annio beg Vitellia to help save Sesto. She realizes that she must confess her crime rather than accept the throne at the price of Sesto's life.
In a public square, Tito is about to pronounce Sesto's sentence, when Vitellia appears and admits that she alone is responsible for the assassination attempt. The bewildered emperor explains that his intention was to forgive Sesto anyway. He finally decides to pardon all the conspirators. The Roman people praise Tito for his kindness and ask the gods to grant him a long life
Purchase Tickets Online or by phone at (505) 988-1234 Admission: $28/$25/$22 Student Discounts Available
About The Lensic:
The Lensic Performing Arts Center opened as a nonprofit in 2001 following the restoration of the Lensic Theater, a cornerstone of downtown Santa Fe since 1931.
The Lensic:

Serves as a national model for a sustainable arts center—with its focus on performance, education and community programs.
Presents over 200 eclectic performances year-round, at affordable prices, delivering outstanding local, national and international talent.
Enriches public education by bringing more than 10,000 school children to the theater annually to see free performances of music, storytelling and dance.
Subsidizes local arts organizations, like the Santa Fe Concert Association, Santa Fe Symphony and Santa Fe Pro Musica by covering half of the rental fee for each group that uses the theater.
Offers its facilities to local nonprofits for free, or at a nominal cost, helping more than 160 organizations raise $1.7 million over 10 years.
Delivers best-in-class technical support capable of serving world-class organizations from traveling Broadway shows to the Moscow Ballet.
Sponsors a technical internship and scholarship program to train Northern New Mexico high school students in theatrical arts.
Serves as a home to the nonprofit Tickets Santa Fe, a community box office serving more than 35 organizations and venues.
About The Santa Fe Opera:
From the unlikeliest of beginnings—an opera company located hundreds of miles from any major city, featuring American singers in a wide-ranging and challenging repertory, and treating theatrical and musical values as equally important in its productions—The Santa Fe Opera has grown to become recognized as one of the world's leading cultural festivals.
About SantaFe.com:
SantaFe.com provides locals and visitors to Santa Fe alike the most current interactive platform for events, music, arts, business, dining and lifestyle. SantaFe.com is a division of Hutton Broadcasting, located at 2502 C. Camino Entrada, Santa Fe, NM 87507
Contact Information:
Scott Hutton
SantaFe.com / Hutton Broadcasting
http://www.santafe.com
(505) 471-1067 (Media inquiries only, please)