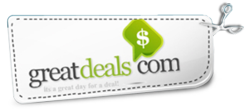 Lakewood Ranch, FL (PRWEB) November 26, 2012
GreatDeals.com, a leading coupon codes website announced today that Best Buy is the most popular store heading into Cyber Monday. Over the Thanksgiving Holiday weekend the Best Buy coupon codes section of the website had nearly twice as many page views as the next closest store, Macy's. The Best Buy online store has been updating their deals on a regular basis leading up to and during the beginning of the Holiday shopping season.
"Best Buy has been very aggressive with their online deals this season," states Robert Langdon, Co-Founder of Ideza, LLC, the parent company of the GreatDeals.com website. "They have put a lot of focus around free shipping offers, but they have some great bargains that come out almost daily. It truly pays to visit coupon code websites like ours often to find those great deals!"
The GreatDeals.com website offers easy navigation through the following methods:
-Browse All Coupons (Offered on Homepage)
-By Store (Ex. Best Buy Coupons)
-By Category (Ex. Electronics Deals)
-Search Box (Ex. Search for Best Buy Laptop Deals)
"Today's consumer is savvy and is looking for the best price online. We provide our visitors the ability to do just that," explains Scott Langdon, Co-Founder of Ideza, LLC.
About Ideza, LLC
Based in Lakewood Ranch, FL, Ideza is an internet property developer founded by the father and son team of Robert and Scott Langdon. Robert and Scott have deep roots developing web properties. In 2001 they founded Nationwide Card Services, Inc., a leading financial services affiliate network, and later sold it to Bankrate, Inc. in December of 2007. The mission of Ideza is to bring to life quality internet properties that add real value to the web.