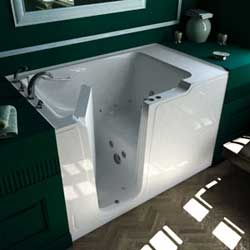 We have drastically dropped our prices on walk in bathtubs and other bathroom safety products for this Cyber Monday Sales Event.
Denver, Colorado (PRWEB) November 26, 2012
One of the top walk in tub retailers, Aging Safely Walk In Bathtubs has announced a huge Cyber Monday sales event. Online shoppers will be able to purchase walk in bathtubs, handicap showers, a transfer bath, safety grab bars and other unique bathroom safety products for much less than regular retail pricing. Savings on walk in bathtubs that will range from 10% up to 40% off of select models like the ADL spa.
Aging Safely Walk In Bathtubs specializes in bathroom safety products for seniors and those with mobility restrictions and drop ship to all 50 states and Canada. In addition to these tremendous Cyber Monday savings, shoppers will also receive free shipping for all walk in tub and handicap shower purchases. The discounts offered by Aging Safely for this sales event will be the lowest prices of the year. The company also offers buyers peace of mind with a low price guarantee, which ensures the lowest prices nationally on walk in bathtubs, that are of equal quality level.
This sales event will also include free giveaways of bathroom safety products, double referral fees paid out and even free gift cards given away randomly. In addition, the company has announced they will be offering walk in bathtubs, handicap showers and hydrotherapy tubs that are on closeout or overstock. Offering bargain hunters that want inexpensive options for safe bathing even more products to choose from for less money.
For many seniors and baby boomers, a walk in bathtub or roll in shower makes perfect sense when considering options for aging in place. Not only are bathrooms a primary area for dangerous falls in the home, but having the peace of mind while bathing for yourself or a loved one is something you truly can't put a price on. Not to mention the warm air hydrotherapy that can potentially ease the aches associated with arthritis and everyday muscle strains. One of the benefits of a hydrotherapy bathtub, is there's no need for chemicals in the water. Bathers can enjoy a hydrotherapy bath without harsh toxins and cleaners like you would find in a traditional hot tub. Hydrotherapy can also be used to potentially help increase blood circulation, which for some people can decrease inflammation. The benefits of hydrotherapy are vast, yet as with anything, it may not be right for everyone. For those considering a walk in tub or hydrotherapy walk in bathtub, it is recommended to seek a doctors evaluation and recommendation to see if hydrotherapy or a handicap bathtub is right for you. For many people a walk in bathtub is the right choice and can provide independence again while bathing for those that deal with subtle to severe mobility restrictions. Many of whom, without bathroom safety products like these, may not be able to bathe at all, forgoing basic hygiene due to fear of falling in the bath.
Not only is Aging Safely Walk In Bathtubs offering huge savings for Cyber Monday, but they will also be offering free consultations on selecting the right senior bathtub for your needs. There are numerous styles and features available, so it is essential shoppers know the important differences between the walk in tubs. Sometimes seat height, or entry height can be a huge determining factor when selecting the right walk in tub. Although making sure it is possible to get the elderly bathtub in the bathroom is one of the first things to consider. Several walk in tubs are 30" wide, therefor it is essential to have a doorway opening greater than 30" to get the tub in initially. These are just a few examples of important things to review. An Aging Safely consultant will cover critical points to think about when making this type of investment in bathroom safety products.
Additionally Aging Safely Walk In Bathtubs will be randomly publishing discount codes on advertising banners and pages especially for this promotion. Whereas online shoppers can qualify for double discounts and double referral fee payouts. For this Cyber Monday sales event, Aging Safely will offer walk in tubs, wheelchair accessible showers, grab bars and hydrotherapy tubs for much less than normally marked prices, without negating the highest quality standards.
Contact Information:
Zach Wennstedt
Toll Free 1-888-779-BATH(2284)
info(at)agingsafelybaths(dot)com