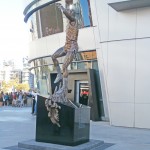 "When you start playing, you do it because you love the game," Abdul-Jabbar said. "I did, anyway. To be able to come this far and be recognized this way is really special."
Los Angeles, CA (PRWEB) November 26, 2012
A ceremony was held on Friday, November 16 at the Star Plaza, in front of the STAPLES Center in Los Angeles, to unveil the 4.000-pound, 16-foot-tall, bronze statue of NBA legend Kareem Abdul-Jabbar.
Immortalizing his world famous sky-hook shot position, dressed in Laker's purple and gold, and wearing his goggles, the deserving NBA Hall of Fame recipient will be represented by the sixth statue outside the area. The statue proudly joins the other sculptures celebrating Los Angeles's sports superstars, such as other basketball Hall of Famers Jerry West and Magic Johnson, well-known Lakers announcer Chick Hearn, Hockey Hall of Famer Wayne Gretzky, and boxer Oscar De La Hoya.
Created and sculpted by renowned artists Julie Rotblatt Amrany and Omri Amrany, founders of The Fine Art Studio of Rotblatt Amrany, this massive statue stands on a granite base and seems to reach into the sky. Their Chicago-based studio of Rotblatt-Amrany has 20 years of completed commissions and have works exhibited throughout the United States and around the world. Contemplating the statue, Abdul-Jabbar observed: "I think it really captures what I was all about with my game."
Kareem Abdul-Jabbar has a long list of personal and team accomplishments during his career with the NBA's Milwaukee Bucks and the Los Angeles Lakers from 1969-1989, including six NBA Championships and a record for six regular MVP Awards. More recently, he has been an actor, coach, and author, and this year was selected as a US cultural ambassador.
Speaking at the ceremony were Earvin "Magic" Johnson, civil rights activist Richard Lapchick, former Bucks announcer Eddie Doucette, former coach Pat Riley, and others who shared stories from his childhood, early career, and time playing for the Lakers. Abdul-Jabbar thanked all who supported and coached him over the years, and hoped that his Skyhook Foundation (which promotes science, engineering, math, and technology in schools through the California Board of Education) would show his gratitude by giving back to the community.
"When you start playing, you do it because you love the game," Abdul-Jabbar said. "I did, anyway. To be able to come this far and be recognized this way is really special."
About The Fine Art Studio of Rotblatt Amrany
Headquarter in Highwood, Illinois, The Fine Art Studio of Rotblatt Amrany is a premier fine art studio and cutting edge art school. Julie Rotblatt Amrany and Omri Amrany started the studio with over 20 years of fine art from their portfolios, art of the Studio Artists and Commissions like "The Spirit: Michael Jordan", Vince Lombardi and others.
To view their extensive portfolio of commissions and fine art, visit their website at http://www.rotblattamrany.com
For more information, email: info(at)rotblattamrany(dot)com