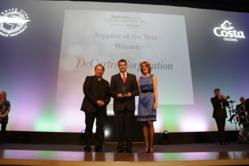 The cruise industry, despite being incredibly large and diverse, has a small feel to it that is almost like a family. Being officially recognized as a valued member of that family means a great deal to us at DeCurtis Corporation.
Orlando, FL (PRWEB) November 30, 2012
DeCurtis Corporation, a Microsoft Gold Software Development Partner and creator of Mobile Assembly Suite (MAS), the cruise industry leading solution for e-mustering, was honored as winner of the "Onboard Supplier of the Year" Award at the annual Seatrade Insider Awards held Palais du Pharo, Marseille on 27th November, 2012.
"The tremendous level of expertise represented by the Seatrade organization and the judging panel make this award even more significant for us," says David DeCurtis, founder and president of DeCurtis Corporation. "As much as technology plays a part in this wonderful industry, being able to bring a solution like MAS to market and have it recognized is really a very humbling honor."
DeCurtis Corporation provides software consulting for all industries but has spent an extensive amount of time in the cruise and hospitality market assisting cruise lines and other entities convert their business needs into market differentiators through the efficient implementation of custom software solutions. Mobile Assembly Suite (MAS) is a product of that process and partnership as it was developed collaboratively with a leading cruise and entertainment company operating out of Port Canaveral, FL who subsequently has allowed DeCurtis Corporation to bring the product to the entire industry. DeCurtis Corporation is honored to be considered for Supplier of the Year 2012 and is proud to provide Mobile Assembly Suite to the industry as a method to improve on board safety on an international level.
The Sixth Edition of the Seatrade Insider Cruise Awards was held during the Welcome Reception of Seatrade Med in the beautiful, Palais du Pharo, Marseille, on 27 November 2012. Judged by an independent panel of experienced cruise line specialists, the awards are one of the highest accolades in the industry. Judging for the awards is by a select panel of industry executives, members of Seatrade Insider's global editorial team, cruise consultants, analysts and industry experts from around the world.
The award itself was presented by Tony Heuer of Fidelio Cruise and accepted by Bert Swets, Vice President Marine & Technical Operations with Disney Cruise Line as a proxy for Mr. DeCurtis. The official release about the awards (and a note on the other exceptional winners) can be found here.
ABOUT DECURTIS CORPORATION
DeCurtis Corporation is a U.S. based software development company dedicated to developing custom applications using Microsoft Technologies that help improve operational costs. The company was established in 1988 by David DeCurtis who has over 25 years of experience in the software industry. DeCurtis lends its partnership capabilities to companies large and small and prides itself on offering a clear communication model, transparency in project management and a dedication to customer service.