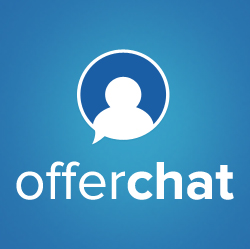 The company relies upon the team to position Offerchat as a fresh yet trustworthy chat sales tool for online retail businesses with an e-commerce website all over the world
Ottawa, ON (PRWEB) November 27, 2012
To effectively proliferate brand awareness in the global scene, Offerchat, a chat widget that can be installed in any website to enable site visitors to communicate instantly with site officials or agents for support or questions, has added its own dedicated marketing team. The annexation of the Offerchat Marketing Team creates a powerful synergy with the Development Team within the company by amplifying to the public what the developers have been loading into the live chat widget that makes it the best online chat for websites and the most effective sales tool in the market.
The company relies upon the team to position Offerchat as a fresh yet trustworthy chat sales tool for online retail businesses with an e-commerce website all over the world that allow internet shoppers and site visitors to chat with them instantly, consequently increasing the likelihood of a purchase.
By adapting a solid marketing message, Offerchat has broken down the walls of obscurity resulting in the company's successful debut in the global scene. The marketing team has also released an infographics – a visual informative representation – on the importance of live chats on websites.
As mentioned, free chat widget allows a visitor to chat one-on-one with a representative from a website or online store and gain personalized information. On the other hand, site owners, administrators or chat agents are able to monitor and reply to these incoming chats from a single, uncluttered dashboard or control panel. They can also add other sites they wish to support as well as add multiple agents on the control panel without having to create another Offerchat account.
Aside from its main role of spreading the Offerchat brand to the world, the Marketing Team also took upon the role of bridging the chat widget's developers and its users, making it the point of contact where e-commerce online shop and website owners go to for support and feedback. The team has also been consciously and proactively keeping tab of the online chat's users' needs and requests relaying them to the company's development team for the online chat widget's further enhancement.
To learn more about the Offerchat online chat, visit http://www.offerchat.com
About
Offerchat is a free premium live chat for websites specifically designed to help online businesses increase their conversions and sales. It's easy to add chat widget with full features that's 100% free. Offerchat is brewed to perfection at Click Labs, Inc. a company based in Cebu City, Philippines. The company specializes in driving search marketing and social media traffic, social web app development and conversion optimization. Each product or service specifically helps small/medium website owners increase online visibility and improve online sales.
###