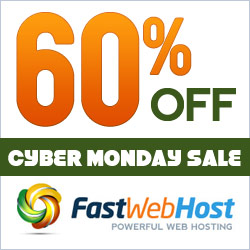 Diamond Bar, CA (PRWEB) November 26, 2012
FastWebHost is celebrating the Thanksgiving holiday shopping season on Cyber Monday, the 26th of November by presenting web hosting plans at 60% off regular pricing.
This limited time offer is valid for the November 26th as a one day limited offer sale. As part of the company's annual Cyber Monday Deal Event, all hosting plans except domain registrations will get 60% off from 12:01 AM to 11:59 PM PST 26th Nov. 2012.
Rupi Singh, Director at FastWebHost stated "Our Cyber Monday promotion will enable Holiday shoppers to buy reliable, feature packed Linux and Windows web hosting at heavily discounted prices, rarely seen in the industry". Rupi Singh further stated "FastWebHost will offer 60% off on all web hosting packages, making our Cyber Monday sale a top tech bargain"
As an example of the immense savings being offered on Cyber Monday, the company's best Unlimited Hosting plan will be priced at $1.99 a month after 60% discount from the normal monthly price of $6.99. This is a tremendous value for shoppers of unlimited linux hosting services who require Unlimited Web Space, Bandwidth, Domains and MySQL Databases.
The company's Cyber Monday Windows Web Hosting sale will enable shoppers to sign up for Plesk windows hosting at $3.20 a month with 60% discount over regular $7.99 pricing. The windows hosting plan offers unlimited web space, unlimited bandwidth, unlimited emails accounts and ASP, ASP.net, SQL and Access features.
FastWebHost Cyber Monday Sale on November 26th will also include discounted deals on Reseller Hosting Plans. The popular Reseller Hosting Package which is priced monthly at $14.99 normally will be now available at a discounted rate of only $5.99 per month. This plan includes everything needed to start selling webhosting online including 20 GB Web Space, 200 GB bandwidth, 20 cPanel accounts, no set up fee and Free Enom Domain Reseller Account.
In addition to the special lower prices, FastWebHost customers will enjoy the company's robust connectivity infrastructure, redundant backbone network, unmatched 20-minute response time and live support available 24/7 all 365 days a year.
This holiday season, shoppers looking for top web hosting deals should check out FastWebHost Cyber Monday Sale on the company's website at http://www.fastwebhost.com. This is a one day limited time deal.
About FastWebHost
FastWebHost, is a web hosting and domain registration service provider based in California, USA. Founded in 2002, the company is dedicated to providing reliable and state of the art web hosting solutions at affordable prices. FastWebHost currently hosts over 200,000 domains, and offers robust 24/7 support, highly experienced and well trained technical staff; US based Datacenter and an acclaimed Network infrastructure.