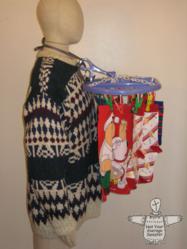 Do some searching for an odd-ball thing-a-ma-jig . . . and get stitching and tying.
Seattle, WA (PRWEB) November 27, 2012
Nancy Schloetel, the owner of Not Your Average Sweater.com, noticed the trend last year, when her 3D sweaters were definitely among the fastest selling items in her sweater eShop. "The bigger and more unusual the pieces were that I added to my sweaters, the more popular. I'd add the sweaters to my inventory one day, and they'd be snatched up the next."
During all her shopping trips throughout the past year, Nancy kept her eye peeled for unusual sweater accoutrement. "Lights on a sweater are always a good bet, too, and the combination of lights AND a big 3D add-on becomes a real crowd-pleaser" says Schloetel.
What does one look for when decorating an ugly Christmas sweater? The sky's the limit. Consider toys, stuffed animals, centerpieces, kitchen linens and aprons, plastic candles, nutcrackers, wall hangings, advent calendars, the front section of a t-shirt, tree ornaments, full-sized Christmas stockings, sequin purses, greeting cards, strings of blinking Christmas lights, socks, booties, homemade holiday scarves . . . and the list goes on. Almost any Christmas item could work, and help to make an ugly Christmas sweater truly one-of-a-kind.
Schloetel also notes that adding 3D pieces to sweaters is a great way to unite a group of sweaters into a theme. If attending a party as a couple or in a group, but it's been a challenge to find multiples of similar sweaters, simply unify the 3D pieces added to your group's sweaters. This will greatly broaden the options. Everyone in the group could add a favorite Barbie doll, or go with angel figures, or a cooking club could find holiday kitchen items and cover their sweaters with potholders and kitchen gadgetry. Book clubs could add bookmarks, books, or ornaments made from colorful pages of discarded childrens' books onto their ugly Christmas sweaters.
"At Not Your Average Sweater.com I stay true to the early days of the ugly Christmas sweater resurgence," says Schloetel. "I stick with the old-school approach of using recycled/re-purposed sweaters with the addition of "found" objects, rather than offering any newly manufactured sweaters." She admits that uncovering the silly pieces she adds to her sweaters is her favorite part of her ugly Christmas sweater endeavor.
So any DIYers thinking of wearing the same old, ordinary Christmas sweaters worn last year should take Nancy's advice, and "Do some searching for an odd-ball thing-a-ma-jig, get your needle and thread and some ribbon out of the junk drawer, and get stitching and tying." Don't let the ugly Christmas sweater 3D train pass you by!
About Not Your Average Sweater:
The Not Your Average Sweater eShop (http://www.NotYourAverageSweater.com) offers ugly Christmas sweaters for holiday parties. Choose from hundreds of previously enjoyed, adult-sized sweaters ranging from quaint and charming, to hideously ugly (with lots of added 3D extras not found anywhere else). Find great accessory and ensemble pieces (like patterned turtlenecks, holiday vests and blazers, along with plaid skirts, kilts, shorts and pants) to take your next ugly Christmas sweater look into the best-dressed (or would that be worst-dressed?) winner's circle. Need ideas for party activities, menus, beverages, or decorating ideas? Not Your Average Sweater has a blog full of tips and suggestions to help with all the elements involved in throwing a successful ugly Christmas sweater shindig.