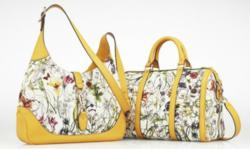 (PRWEB) November 26, 2012
With Cyber Monday and Christmas' coming, Nogda.net, a fashion handbag online shop, has launched its N2 Series Fashion Handbag promotion from Nov. 25 to Dec. 30, 2012. According to Joyce Fong, CEO of Nogda.net, all the customers for Q5 series fashion handbags get a discount, up to 49% off.
On the page of Nogda.net, customers can find the N2 style they like easily. According to Joyce Fong, N2 Series Fashion Handbags are designed by their own design team, and would be the most shining stars in fashion bags at the end of 2012.
N2 Series Fashion Handbags have the same appearance like the Q5 series fashion handbags from ftrodeo.net. All the N2 Handbags have these several characteristics: rich choices, fine tailoring, and fast delivery services.
Nogda.net has vowed to spare no energy to provide the best products and services to its customers, and is ready to help them to grab the spotlight in few seconds with the N2 series handbags.
Joyce Fong stressed, "If you plan to buy fashion handbags, you should not miss the great chance we offer. We always offer big discount for customers, and N2 series fashion handbags will be a stimulator of sales in the next few months."
About Nogda.net
As a leading provider of fashion handbags, and consistently ranked Top 10 on numerous review sites, Nogda.net offers high-quality products at affordable prices, and their customer service is a top priority.
More information can be found at http://www.nogda.net