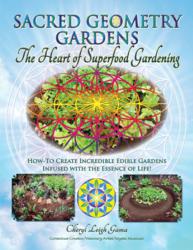 "Cheryl Gama has written a most remarkable book that has thoroughly inspired me to be more conscious and creative in my gardening." ~ Carla Hannaford, Ph.D
Hawaii, HI (PRWEB) November 26, 2012
The New Book ''Sacred Geometry Gardens: The Heart of Superfood Gardening, by Cheryl Gama " is planting a new approach to organic gardening that creates a delicious recipe for life in time to enhance the holidays and every day. This leading edge organic garden book is being offered at a 10% discount for Cyber Monday purchases at sacredgeometrygardens.com.
Sacred Geometry Gardens, at its core, is a beautifully illustrated, hands-on presentation of practical, passionate organic gardening methods that produce nutrient density "superfoods" at home on any size plot of land. Every page of this comprehensive, easy-to-follow guide sows inspiring holistic gardening and horticulture with wisdom that encourage the reader towards optimal health for the Earth, for their organic gardening and for themselves. It is a great gift item at a savings for the novice or advanced art gardener and a great opportunity to save during the holidays.
Author Cheryl Gama, brings to light a compelling and leading edge organic garden technique by applying sacred geometric designs to any garden space. It is based on quantum physics theory that all things in the universe have the same geometric shapes considered the "building blocks" of all things in the universe. Recently, Nassim Haramein's ground-breaking physics experiments and discoveries, show that not only is space full of a life-giving energy, but that energy is highly structured and geometric in nature. By applying these ancient Universal Geometric Patterns (the blueprint of life) we can cultivate our Spiritual Connection with the Earth and boost the nutrient density, as well as increase the yield and size of the fruits and vegetables. Combine all this with 'Soil Tips and Techniques' from Jana Bogs, PhD. that focus on improving the nutritional content of foods. This is a new paradigm of farming which goes beyond traditional organic farming methods.
Sacred Geometry Gardens is available at the best price since it's release with this Cyber Monday deal. If you want to order Sacred Geometry Gardens: The Heart of Superfood Gardening, by Cheryl Gama ' and receive the 10% discount simply go to sacredgeometrygardens.com and enter code WRXWDNYT. If you are interested in learning more about the author, Cheryl Gama, or this exciting new book visit http;//http://www.sacredgeometrygardens.com
###
Makana Lana Publishing
Public Relations
Tasha Brady
808-768-0740
http://www.sacredgeometrygardens.com