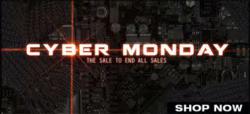 Save big with 2012 Cyber Monday Web Hosting Deals!
San Francisco, CA (PRWEB) November 26, 2012
HostUcan.com, an industry leading web hosting and review site, today released a page which includes a list of deals of web hosting on Cyber Monday.
Cyber Monday is a day for all online retailers to give out big discount to their products, so do web hosting industry. Quite some web hosts run Cyber Monday sales on their web site, and unfortunately, it's hard to find a place which consolidate all those deals together so that people could easily find what they need.
HostUcan.com took the initiative in this year, and release a post which include all the Cyber Monday deals from top web hosts. If anyone want to add their promotion to the list, please contact support(at)hostucan(dot)com, according to what HostUCan.com state in their site.
Below are part of the great deals people could find in their site.

iPage Cybeer Monday Deals - $1.99/month, up to 70% Off
HostGator Cybeer Monday Deal – 50% Off
Arvixe Cybeer Monday Deal – 50% Off
MediaTemple Cybeer Monday Sale - First 3 Months free
Bluehost Cybeer Monday Deal - $3.95/month
WebHostingHub Cybeer Monday Deal – 44% Off
InmotionHosting Cybeer Monday Deal 20% - 50% Off
HostMonster Cybeer Monday Deal - $3.95/month
HostUcan editor team is still adding more deals to the list, people could visit its site at http://www.hostucan.com/news/cyber-monday-web-hosting-deals-2012-2747 to get the latest update.