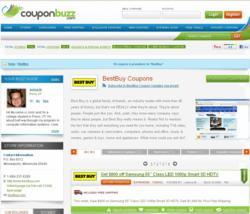 I don't think they would so much roll over in their graves, as maybe dance a jig in them.
Houston, TX (PRWEB) November 26, 2012
To use some tech geek terminology, Cyber Monday has some sick deals to offer online shoppers! 'Sick' as in good. 'Sick' as in awesome. Impressive discounts on high performance electronics that are unlikely to come around again until this time next year. As a case in point, the Best Buy Cyber Monday offer of a Dell laptop for just $249.99. CouponBuzz.com is featuring this deal, among many others, at the top of their special section for Best Buy coupon codes and sales. Basically, anytime a laptop can be purchased for less than $250 dollars it demands a premium position on a coupon aggregate website.
"I sometimes get a chuckle out of thinking about what some of the pioneers of computing technology would think of the amazing progression of the industry," stated Justin Bowen, founder of CouponBuzz.com. "Take this Best Buy Cyber Monday deal for a Dell laptop. I don't think they would so much roll over in their graves, as maybe dance a jig in them. Coming from the first computers, which were room-sized and cost millions, the fact that we are now able to manufacture the parts low-cost enough to justify selling a laptop for $249.99?!? Granted, this is an awesome sale, but it is still a mind-boggling evidence of the industry's rocket-like trajectory."
The Best Buy Cyber Monday coupon he is referencing is for the Dell Inspiron 15.6 inch laptop, which is retailing for just $249.99 during their Cyber Monday sale. Granted, this laptop doesn't have a lot of bells and whistles, in fact, it's a bare-bones as it gets, but it is still a whopper of a deal. Interested shoppers should act fast, as supplies are limited and it is expected to sell out rapidly.
This Dell 15.6 inch Inspiron laptop comes standard with an Intel Celeron processor at 1.7 GHz, and 2 GB of memory. Its hard drive is surprisingly capacious at this price point, boasting 320 GB of storage. A DVD optical drive, built-in web cam, digital media card reader and HDMI outputs are all fairly basic. But again, it's $250 bucks. Online shoppers interested in checking out this Best Buy Cyber Monday deal should click on the following link http://couponbuzz.com/bestbuy-coupons.html.