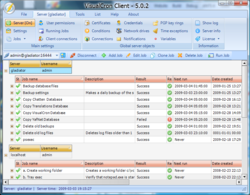 VisualCron is an automation tool for Windows that is used by large companies all over the world. It replaces the built in Task Scheduler in Windows and extends it with a lot more advanced functionality.
(PRWEB) November 27, 2012
Today, thousands of companies use VisualCron to automate their IT environment. Usually, the customers use email to be notified when and how a scheduled Task did perform. From version 6.1.5. customers can use the new XendApp Task to get notified and pass information directly to the phone or device.
Featured Task #1: Powershell automation with inline code
With VisualCron 6 users can automate Powershell execution by either pointing to a Powershell file or write Powershell code directly in VisualCron. VisualCron is able to return output and result from scripts.
Windows PowerShell is Microsoft's task automation framework, consisting of a command-line shell and associated scripting language built on top of, and integrated with the .NET Framework. PowerShell provides full access to COM and WMI, enabling administrators to perform administrative tasks on both local and remote Windows systems.
In PowerShell, administrative tasks are generally performed by cmdlets (pronounced command-lets), specialized .NET classes implementing a particular operation. Sets of cmdlets may be combined together in scripts, executables (which are standalone applications), or by instantiating regular .NET classes (or WMI/COM Objects).These work by accessing data in different data stores, like the filesystem or registry, which are made available to the PowerShell runtime via Windows PowerShell providers.
Featured Task #2: Assembly execute Task
Users are able to execute methods in unmanaged and managed .NET dlls with this Task. With the help of reflection VisualCron is able to select an assembly and retrieve methods and parameters in a given class. It is possible to select a managed .NET assembly or an unmanaged assembly. By automating methods within a library the end user does not have to build a new executable or create a command line interface. Also, the parameters and return types can be of more complex types which might be hard to enter in the command line interface.
VisualCron hosts the dll in either current or new process for fast execution. Managed Extensions for C++ allows data types to be discovered, examined, and invoked at runtime through reflection. This ability is supported through the common language runtime and uses the metadata included automatically in each DLL and EXE.
Featured Task #3: Web service/WCF Task
Web and WCF services are great because they allow advanced input and output parameters. You can specify input parameters of any data type. The problem is that this is hard to do manually. With the execute Webservice / WCF Task a service can easily be discovered along with its methods. Once a method is selected the parameters will be listed. Parameters can easily be keyed in as hard coded values or dynamic values can be used. Input in parameters are validated in design time. The actual output can be passed on to other Tasks for further processing. It has never been easier to automate web services.
Featured Task #4: .NET code Execute Task
The .NET Execute Task allows you to enter Microsoft .NET code in c# (csharp) or VB.NET language. The code entered will be dynamically executed at run time. The Task interface includes a syntax highlighter for the selected language which helps the coding. When done, hit refresh and created methods and their in-parameters will be listed. Similar to other reflection Tasks input values will be validated and can contain dynamic values.
About VisualCron
VisualCron is an automation tool for Windows that is used by large companies all over the world. It replaces the built in Task Scheduler in Windows and extends it with a lot more advanced functionality. The application can be evaluated for free for 45 days with full functionality.
VisualCron follows standards like OpenPGP, FTP, SFTP, SSH, SMTP, IMAP, POP3, HTTP for its Tasks. This allows integration with other operating systems and environments like Linux.
About 50% of customers are based in the US. The application has been available since 2004 and has since then gone through a large number of major enhancements. VisualCron is used by all business categories and thousands of customers have experienced the advantages of automating manual Tasks.
VisualCron strive to base enhancements on feature requests from users. During the development phase, the customer is highly involved and able to affect the outcome.
By automating manual tasks VisualCron can reduce errors and save time. With the Client interface of VisualCron you get a full overview of the current situation of Jobs and Tasks.
http://www.visualcron.com
Keywords
Automate BPA,active batch,advsyscon,networkautomation,vsoft,automise,automize,softmotive,winautomation,control-m,tivoli batch scheduler,vtaskstudio,bmc,clickatell,CA Workload Automation AE,autosys,JobScheduler,SOS GmbH,SoapUI