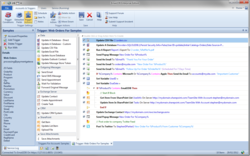 Orlando, FL (PRWEB) November 28, 2012
Parker Software is looking to build on the success of their Email2DB application and its integration with Microsoft SharePoint. Having recently exhibited at SharePoint 2012, they anticipate high demand from both Microsoft partners and SharePoint end users for their software solution.
SharePoint is renowned for making it easy to collaborate, share information, manage documents and publish reports to help organizations to make better decisions. Email2DB reinforces these core competencies by offering an enhanced email automation solution, which takes emails or specific content from emails or attachments and adds these to SharePoint lists. In addition, advanced functionality includes the ability to:

Upload files or attachments to a SharePoint document library.
Upload files or attachments and attach to a SharePoint List item.
Read SharePoint list item values and assign to an Email2DB Fields - which can then be used on subsequent actions (outgoing auto responses, pdf document creation, database update etc).
Update any number of separate SharePoint sites.
Email2DB, with its ability to read and process emails from IMAP, POP3 or Exchange, reflects SharePoint's ability to help reduce operational, and maintenance costs, save time and effort enabling business to focus on higher priorities.
Email2DB offers integration with both on-premise and online versions of SharePoint. Further integration with Office 365 extends Email2DB's capabilities and also enables emails or specific data from emails to be sent from a hosted exchange environment to an on-premise SharePoint deployment.
Email2Db is unique in its ability to take specific information from messages or attachments received or process the email in its entirety and push these into a SharePoint list. Another unique attribute is its ability to pull information from SharePoint list to create, for example, automated responses or pdf documents.
Email2DB is available as an on-premise solution or as a fully managed, highly resilient cloud based service, Email2Cloud, and free trials are available from the websites.