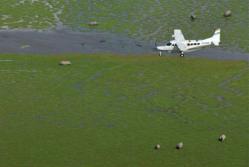 Mombasa, Kenya (PRWEB) November 28, 2012
Scenic Air Safaris will launch its first cross-border air safari in June 2013. Using their recently acquired Cessna Grand Caravan they will depart Dar-es-Salaam on the 11th June and arriving in Kilimanjaro on the 4th of July. Clients will stay at some of the most luxurious lodges in Tanzania, Mozambique, Zambia, Zimbabwe, Malawi and Botswana. Some of the highlights will include Medjumbe, a small private island in the Quirimbas Archipelago in Mozambique, Stanley and Livingstone Hotel next to the famous Victoria Falls and Greystoke Mahale in the Mahale Mountains which are famous for its population of chimpanzees. Every location is very unique in its own way. Activities include long game drives, a drive on the Ichobezi Houseboat on the Chobe river and lots of spare time to relax in the outstanding environments.
The complete tour includes Sand River Selous (Selous), Medjumbe (Quirimbas Archipelago), Puku Ridge (South Luangwa), Stanley and Livingstone (Victoria Falls), Kwara (Okavango Delta), Royal Livingstone Hotel (Livingstone), Ichobezi House Boat (Chobe), Chongwe (Southen Zambezi), Kaya Mawa (Lake Malawi), Greystoke Mahale (Mahale Mountains) and Lemai Serengeti (Serengeti).
In addition to the 24-day tour, clients can choose a thirteen day tour that starts in Dar-es-Salaam and which goes south to end in Livingstone or a fourteen day tour that starts in Livingstone and which goes north to end in Kilimanjaro. To get more information please contact us at sales(at)scenicairsafaris.com or visit our new website http://www.scenicairsafaris.com
About Scenic Air Safaris
Scenic Air Safaris is a luxury tour operator and charter airline based in Mombasa, Kenya and has a range of flying safaris which depart weekly from Mombasa and Nairobi. The company operates the Cessna Grand Caravan which is equipped with digital weather radar, Garmin 3D navigation system and air condition. The private airplane has 8 very comfortable and luxurious First Class leather reclining seats with the ability to move in all directions. The large windows allow guests to observe the passing elephant herds, the hippos close to the rivers and the extensive Kenyan Savannah from a very close distance. Scenic Air Safaris is member of the "Out of Africa Collection".