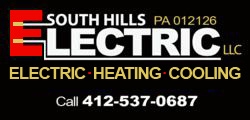 The constant changes in home energy usage regulations, and with costs escalating all the time, homeowners can be left in a quandary
Pittsburgh, PA (PRWEB) November 26, 2012
South Hills Electric Heating Cooling now offers Pittsburgh homeowners a one-stop Online resource for energy conservation tips to help households use energy more wisely, and save on fuel bills.
With the topic of home energy usage, prices, and going "green" news and awareness on the climb, a one-stop resource to address homeowner heating and cooling system questions is provided by expert and experienced heating and cooling professionals at South Hills Electric Heating Cooling.
South Hills Electric Heating Cooling's Online Energy Conservation Tips will provide a valuable resource on some of the following subjects:

Water heaters
Washing Machines
Furniture blocking
Weather stripping
Future plans for up-to-date SEER information and standards for your heating/cooling system, educational materials and Online question and answer chat for Pittsburgh homeowners are to be included.
"The constant changes in home energy usage regulations, and with costs escalating all the time, homeowners can be left in a quandary on where to turn for even the most basic in information on what a they can do to help them stay comfortable in their homes without breaking the bank," said Pat Cray, owner.
About South Hills Electric Heating Cooling:
South Hills Electric Heating Cooling is located at:
South Hills Electric Heating Cooling
930 Glass Run Rd
Pittsburgh, PA 15236
(412) 537-0687
patcray(at)southhillselectric(dot)com
http://southhillselectricheatingcooling.com
South Hills Electric Heating Cooling provides first class electrical, heating, air conditioning, and plumbing services to the greater Pittsburgh area. Since 1993, we have installed furnaces, boilers, heat pumps, air conditioners, electrical systems and hot water heaters. We are licensed, registered certified and insured to work in your home or business. We carry an A+ rating from the Better Business Bureau and are registered with the PA Attorney General License #PA012126.
###