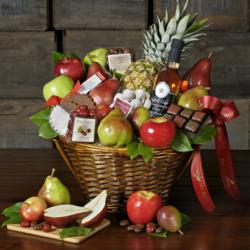 This is the best deal of the year so don't miss out.
Hood River, OR (PRWEB) November 26, 2012
For those who love Black Friday, get ready for Cyber Monday!
Starting at 6 am PST on Monday, November 26th – and lasting until 12 am PST – The Fruit Company will be showcasing different deals on its fabulous orchard fresh fruits, outstanding fruit baskets and scrumptious gourmet gifts.
Every two hours – from 6 am to 4 pm – a new deal will be revealed at sensational 30% to 50% savings. Customers receive five opportunities throughout the day to save big on mouth-watering selections.
The excitement keeps building. From 4 pm to 12 am, customers can snatch up an amazing 50% off Mystery Item from The Fruit Company's bountiful selection of fruit baskets.
This is the best deal of the year so don't miss out. Visit The Fruit Company at http://www.thefruitcompany.com throughout Cyber Monday for fantastic buys that are available one day and one day only!
About The Fruit Company:
The Fruit Company, located in the Hood River Valley of Oregon, has dedicated itself to delivering the finest orchard fresh fruit and gourmet gifts. The company heritage, spanning three generations, is focused on delivering the best-tasting, healthy items from their vast product offerings. As one of Oregon's Top 15 growing companies and part of Internet Retailer's Top 50 "Best of Web", The Fruit Company continues to impress and amaze with a wide selection of gift items -- for all occasions -- shipped throughout the United States. Today they are one of the top gift basket companies and employ more than 200 people during their peak season. For more information on The Fruit Company's gift selections and sustainable practices, please visit their website at http://www.thefruitcompany.com.