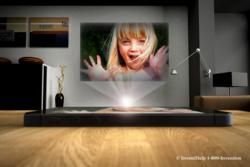 PITTSBURGH, PA (PRWEB) November 28, 2012
Photorealistic illustrations of the iPhone 6 have been created that take recent Apple patents into account. Although the iPhone 5 is breaking sales records, it is the first-ever iPhone missing a "wow" factor.
Nickolay Lamm, an employee at InventHelp, scoured Apple patent archives to find out what innovations Apple may implement on the iPhone 6. He has selected four patents and illustrated how each of them would look like in real life. The four patents, and their corresponding illustrations, can be found at the InventHelp Blog.
"I feel that the sales success of the iPhone 5 overlooks the fact that it was a pretty boring phone," says Nickolay. "I looked at all of Apple's recent patents and chose four which Apple may include in the iPhone 6 or later version. I then hired a 3D graphic designer to illustrate each of these patents so that the illustrations were as realistic as possible. I gave him very specific guidelines to follow."
Matteo Gianni, who is an '09 graduate of the European Institute of Design, created the 3D illustrations using a combination of 3d Studio Max and Rhinoceros 3D for modeling, Mental Ray and Maxwell Render for rendering, and Photoshop for touchups. Gianni also thought that "people were expecting something more from the iPhone 5…upgrading hardware is great but many people just take advantage of the phone's hardware and expect more from the design."
The InventHelp® social media team covers the latest gadgets and advances in technology. It maintains the Invention Girl Blog as well as the InventHelp Facebook and InventHelp Twitter accounts. For an interview with Nickolay Lamm, InventHelp marketing specialist, please contact nlamm(at)inventhelp(dot)com or call 412 -288-1300 x4168.
# # #