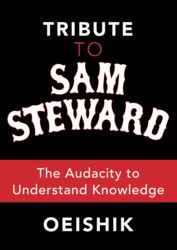 a beautiful amalgam of poetry, prose, and photography, all to the purpose of creating a neverending conversation with Samuel M. Steward
CHICAGO (PRWEB) November 27, 2012
Author Oeishik's deep interest in civil rights and gay history fueled this project, a fascinating dialogue between himself and the infamous homosexual scholar and artist Samuel M. Steward. During the "active creative process," Oeishik opened his work up to the public free of cost on its namesake website, creating a give and take with his readers that deeply influenced the nature of the work. Through the comments of the readers, the author realized that humanity is, in fact, inherently connected on a deep level.
Tribute to Sam Steward is a heartfelt outpouring of one man's experiences through the lens of his own sexuality and his immigration tale. Author Oeishik arrived in America in his teens, and his thirst for knowledge led him to the University of Illinois, where he studied American History and later to law school. Oeishik's homosexuality, immigrant status, and his dyslexia inform his world view, and fuel his passion for gay history and civil rights issues.
For additional information, please visit http://www.Samstribute.com.
Tribute To Sam Steward
Oeishik
Dog Ear Publishing
ISBN: 978-1-4575-1396-1
224 pages
$65.00 US
Available at Ingram, Amazon.com, Barnes & Noble and fine bookstores everywhere.
About Dog Ear Publishing, LLC
Dog Ear Publishing offers completely customized self-publishing services for independent authors. We provide cost-effective, fast, and highly profitable services to publish and distribute independently published books. Our book publishing and distribution services reach worldwide. Dog Ear authors retain all rights and complete creative control throughout the entire self-publishing process. Self-publishing services are available globally at http://www.dogearpublishing.net and from our offices in Indianapolis.
Dog Ear Publishing – self-publishing that actually makes sense.