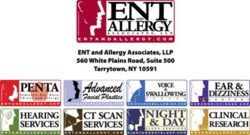 Tarrytown, N.Y. (PRWEB) November 27, 2012
ENT and Allergy Associates® (ENTA), the largest, most comprehensive and dynamic ear, nose, throat, allergy and audiology practice in the U.S., today announced that it has partnered with Sy.Med Development, a HealthStream company, to use their Sy.Med OneApp™ software solution to streamline their provider credentialing and enrollment processes. ENTA also pioneered a state-of-the-art web interface for credentialing management, benefiting both patients and billing staff.
Using the traditional "paper-based" method of provider credentialing and enrollment, the administrative tasks are labor intensive and costly for physician practices. According to the Medical Group Management Association (MGMA), on average, a group practice of 10 physicians spends $7,618 per physician each year on filing and processing credentialing applications of their physicians. This accounts for nearly 70 hours of staff time spent on each application and, on average, practices file 17 credentialing applications for each physician each year. For a group the size of ENT and Allergy Associates® (ENTA), that adds up to thousands of hours of staff time and resources. The Sy.Med OneApp solution automates this process, reducing paperwork by up to 70 percent and saving valuable staff time that can be better spent supporting operations more directly tied to patient care.
Sy.Med's credentialing application centralizes data and automates the credentialing management processes for healthcare organizations. To do this, Sy.Med streamlines the application process, as well as houses all the pertinent static and dynamic information on physicians in one place. One of the features is to auto-fill PDF applications with the information that is housed in the database.
With the credentialing software deployed, ENTA further expanded insurance participation automation by working with a team of seven web developers over a period of many months in order to launch robust web interface that pulls data automatically from the database daily. This interface extracts information from the Sy.Med database daily to update the ENTA website with up-to-date doctor insurance participation information. This not only applies to the insurance listing on the left hand side of each the practices physician profile bios, but also to a leading edge website module that allows patients to find a doctor by location, and insurance type.
ENTA similarly interfaced the credentialing software with another web app for its internal billing staff to be able to access real time updates to provider participation numbers and important provider demographics. This new solution replaces an Excel grid that no longer needs to be maintained.
"We take pride in our ability to remain at the cutting edge of practice management solutions like this, where technology serves to reduce costs and optimize staffing," said Wayne Eisman M.D., President of ENT and Allergy Associates, LLP. "Offering a web interface and credentialing software are two tangible examples of where our investment in infrastructure and commitment to streamline the healthcare delivery model in both supply chain management and medical services will truly pay off."
"This software virtually eliminates the chance for errors and illegibility," added Deanna White, ENTA manager of credentialing," And that translates into completing and submitting insurance applications in a few days instead of a week or more."
"We are pleased to partner with ENT and Allergy Associates on their credentialing process," said James P. Aylward, president, Sy.Med Development, a HealthStream company. "ENT and Allergy Associates is clearly dedicated to improving their operations through the use of technology as evidenced by leveraging our credentialing software solution."
To learn more about the benefits of ENT and Allergy Associates, or to conveniently find an ENT doctor or Allergy Doctor and then easily book an appointment at the nearest New York (NY) or New Jersey (NJ) location, please visit http://www.entandallergy.com.
To learn more about the Sy.Med One App™, visit: http://www.symed.com or call 1-888-796-3388.
Each ENT and Allergy Associates clinical location provides access to a full complement of services, including General Adult and Pediatric ENT, Voice and Swallowing, Facial Plastics and Reconstructive Surgery, Disorders of the Inner Ear and Dizziness, Asthma, Clinical Immunology, Diagnostic Audiology, Hearing Aid dispensing, Sleep and CT Services. ENTA has a clinical alliance with The Mount Sinai Hospital for the treatment of diseases of the head and neck and esophageal cancer and a partnership with the American Cancer Society to educate and treat patients with smoking disorders and cancer. The Practice has also expanded its clinical capabilities to include advanced Immunodeficiency trials.