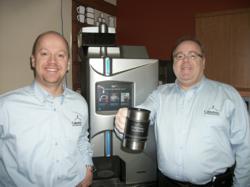 Cafection now has the largest installed base of web-enabled touchscreen coffee brewers in the world
Los Angeles, California (PRWEB) November 27, 2012
Cafection Inc. today announced its best monthly sales results to date, solidifying its position as the number one North American single cup coffee brewing equipment manufacturer. Over 2 billion fresh cups of coffee per year are now brewed in Cafection's bean-to-cup commercial coffee makers.
"We're extremely proud of the fact that 80% of Fortune 500 companies use Cafection coffee brewers, we're the largest OEM manufacturer in North America, designing & Producing brewing equipment for the world's top coffee roasters, and with the recent launch of our Innovation Series, we have the largest installed base of web-enabled touchscreen coffee brewers in the world." said Denis Maillé SVP & COO of Cafection Inc.
Aside from expanding its OEM division, Cafection has also increased sales of its own Avalon and Innovation Series proprietary brands by providing the most advanced equipment, innovative features and unparalleled customer service to a rapidly growing roster of high profile companies such as Apple, Google, and Facebook.
The company expects to maintain its leadership position and to continue growing at a fast pace thanks to planned enhancements to its web-enabled coffee brewing & remote management technology that will provide innovative business solutions to Cafection's current & future partners. A series of both user and coffee provider experience pilot programs destined towards specific consumer-facing industries are already planned for deployment in 2013.
"We're truly passionate about fresh coffee," added Frank Baron, President of Cafection Inc. "Our team's efforts have gotten us to this very important milestone thanks to our fundamental values. We pride ourselves in manufacturing equipment that provides the most innovative fresh coffee brewing experience using only biodegradable supplies. We know that focusing on these values will ensure our continued growth even though the industry has trended towards the use of wasteful pre-packaged plastic coffee servings."
For more information about Cafection, please visit http://www.cafection.com
Cafection Inc. is North America's largest professional Coffee Brewing system manufacturer and OEM supplier. It designs and builds the most technologically advanced coffee brewing equipment for top tier companies as well as the world's top coffee roasters. Aside from a long-standing tradition of providing consumers with the best coffee brewing experience, Cafection is dedicated to global sustainability and designs its equipment to use only completely biodegradable supplies.