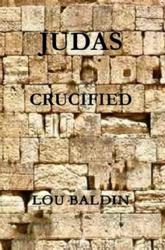 The New Testament tells us that "one" man named Jesus was crucified betrayed by "one" man named Judas Iscariot, history tells a different story. It was the nation of Judea that was crucified, betrayed by a small band of Jewish Zealots...
Kansas City, MO (PRWEB) November 28, 2012
Israel (Israelites) were forged in the furnace of Egyptian captivity after their ancestors migrated to the prosperous land on the Nile River Delta, to escape the famine in the desolate land of Canaan (Palestine), centuries earlier, said Baldin. The people of Israel grew from a nomadic tribe into a powerful nation and that put them at odds with other nations in the region, such as Babylon, Assyria, Philistine and Rome, states Baldin. Like today, Israel fought hard to maintain its identity against the nations that threatened its very existence and concepts of a one god theory in a land where multiple pagan deities were the norm, according to Baldin.
According to Baldin, Israel became as ruthless as its oppressors and the Jews learned well the strategy of battle against superior countries, as their many tales and parables of battle such as Samson and Delilah and David against Goliath demonstrate. Israel was conquered and enslaved by Egypt, Babylon, Assyria and finally Rome, said Baldin. Israel's existence lies in the many books and scrolls created by Jewish leaders, teachers and scribes that created an identity for each Israeli generation to build on; a foundation that was built on allegories, Baldin said.
According to Baldin, Christianity was similarly created during the Roman siege of Jerusalem by Jews desperate to place their sacred scrolls into the hands and minds of their destroyers (Rome), using the same parables and stories that kept Judaism alive for two thousand years before Rome brought Israel to near extermination, in 70 A.D. Baldin emphasized that Judaism faded away and Christianity blossomed as pagan Romans latched onto the one deity concept that was instilled into them by the surviving remnants of Israel, the Christian Jews.
Baldin states that Christianity simmered under the Roman skin for three centuries until the Emperor Constantine, after making Constantinople the seat of the Roman Empire, also gave Rome a new religion, Christianity. Constantine understood the power behind Christianity and made that power his own, said Baldin. According to Baldin, that is when the seed for Islam was planted. Under Constantine, Christianity grew rapidly and became a threat to Middle Eastern customs and beliefs; and so to counter Christianity's sanitizing steamroller, Islam sprang to life three centuries later, stressed Baldin.
Baldin points out that, Judaism, Christianity and Islam, all claiming Abraham as their progenitor, and are brothers under the same god, the god of Abraham, continue to be hostile against each other, as is witnessed in the ongoing Middle East conflicts that keep the whole world on the edge of Armageddon, over stories and parables created four millennia ago.
Lou Baldin has authored 11 books on various subjects.