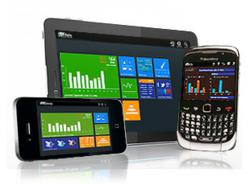 "This new mobile viewer will allow our users to take their business intelligence with them anywhere they go." explained Troy Marchand, President and CEO of Dundas Data Visualization
Toronto, ON, Canada (PRWEB) November 27, 2012
Dundas Mobile features a beautifully designed self-service interface that allows users to keep a finger on the pulse of their business, anywhere and gives businesses a distinct competitive advantage.
Dundas Mobile will enable users to easily create content that is connected to live data sources and publish it to mobile phones, tablets and computers anywhere in the world, allowing businesses to mobilize the data they've invested so much in collecting to make better business decisions. Critically, it allows IT to safely and securely give business professionals the power to consume their own content.
Features of Dundas Mobile include custom-defined notifications and alerts for all levels of an organization; critical information that stays up to date thanks to constant data flow from all sources; and the ability to drill down to view granular data through any dashboard with a single touch.
"We are extremely excited to introduce Dundas Mobile to our clients," explained Troy Marchand, President and CEO of Dundas Data Visualization "this new mobile viewer will allow our users to take their business intelligence with them anywhere they go." On Tuesday December 4th at 1 PM EST, Dundas will be hosting a live webinar to officially launch the new Dundas Mobile. This presentation will take approximately 45 minutes. Details for registration can be found at: http://www.dundas.com/data-visualization-mobile-solutions/
About Dundas
Founded in 1992 in Toronto, Ontario, Dundas Data Visualization has been an industry leader in innovative technologies for years. With over 20 years of experience, Dundas is focused on creating smart, fact-based data visualizations that can are accessible at all levels of your organization. Currently on Version 4, Dundas has continued to stay ahead of the pack in data visualization by adding innovative features and improved functionality with each release. Dundas Data Visualization has been a proud recipient of Microsoft's TechEd Award, Software Magazine's Software 500, the Branham 300 Award and the SD Times 100, among others.
Dundas Connect offers a partner program that provides companies with the opportunity to strengthen business and gain new revenue opportunities with our unique technology. The Connect program is for software resellers and solution providers of all sorts who are looking to provide unique, flexible technology that expands and improves their portfolio of products. The Connect Partner Program engagement options include Value Added Reseller, OEM, SaaS and Referral partnerships.
For more information visit http://www.dundas.com/data-visualization-mobile-solutions/