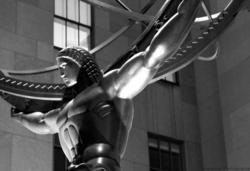 Washington, DC (PRWEB) November 26, 2012
Political gridlock, economic uncertainty, cultural chaos: one prophetic book--"Atlas Shrugged"--reveals the root causes of these problems, and continues to fascinate hundreds of thousands. The life-changing and liberating ideas in the book are at the center of The Atlas Society's work. And now we have made a large number of resources about the novel available online. Find out what the message of Atlas Shrugged means for you as an individual in 21st-century America.
Click here to explore the ideas and message of Atlas Shrugged.
About The Atlas Society:
The Atlas Society promotes open Objectivism: the philosophy of reason, achievement, individualism, and freedom. Our scholars work to further develop this philosophy born in the mid-twentieth century. We present the empowering principles of Objectivism to a global audience, and offer those principles as a rational and moral alternative in the marketplace of philosophical ideas.
We do this through a variety of programs, which include:
-Original scholarly research which further develops the philosophy.
-Academic training of young intellectuals.
-Publishing and commissioning influential books and monographs.
-Our rich multi-media website
-Original commentary and op-eds published in mainstream media.
-Speeches and media appearances.
Visit The Atlas Society's web resource on Ayn Rand's Atlas Shrugged.