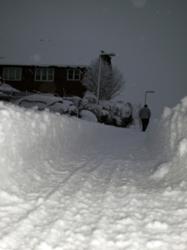 I am confident that we will see significant cold spells, in particular during January
(PRWEB UK) 27 November 2012
Winter arrives next weekend, and with it forecasters Netweather.tv expect temperatures to drop well below the seasonal average, and potentially see persistent spells of consecutive days below 0c during December and again in January delivering a high risk of ice and snow.
The Netweather Winter Forecast, published today, details the risk of significant cold spells from the onset of winter, the first chilly few days arrive before the weekend, though milder weather may return for a short while, the next dose of winter will keep the UK shivering right through mid December. Ian Michaelwaite, Director of Netweather, comments 'The last time we saw the potential for such low temperatures in December was in 2010, and while we aren't able to say whether we'll see significant snowfall this year, what I would say is that this is the time to get ready for winter if you haven't already. Order your heating oil before demand pushes the prices up, check your tyres, battery and fluid levels if you use a car and make sure you are ready for some very cold nights to come'.
Stewart Rampling, Long Range Forecaster for Netweather describes the chances of temperatures being significantly below average in December and January and says 'The building blocks for a cold winter have been falling into place, high pressure over the Arctic creates a phenomenon called blocking that deflects the Jet Stream south of the UK, leaving us open to cold air from a northerly or easterly direction. This alongside a number of other factors makes me confident that we will see some significantly low temperatures, in particular a period from around mid January into early February may lead to disruption across Europe, and the UK won't escape from the effects either'
While the cold weather will create its own problems, the fact that Netweather expect at least December and January to be drier than average will be a relief after the flooding of the past few months. Unfortunately February could see a return of the deluges once the temperatures rise, so 2013 looks like carrying on this years patterns of extremes.