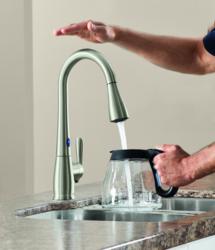 "Manufacturers will be challenged to develop solutions which make the tech invasion as seamless – and stylish – as possible," said Jack Suvak, senior director of market research and insights, Moen.
North Olmsted, Ohio (PRWEB) November 26, 2012
It may not be time to ring in the New Year just yet, but the Market Research and Insights group at Moen, the #1 faucet brand in North America, already has a good idea about some home improvement trends that will be at the forefront in 2013. Every day this week, we will be sharing a sneak peek at these key learnings – specifically, what happens when consumer trends collide – when an emerging trend bumps into one that is somehow already in its path? For example, what happens when the pervasiveness of technology use in the home collides with consumers' need for home products that are personalized to fit their lifestyle? We begin the week by looking at this concept, or as Moen has coined it "Digital Dwellings."
Digital Dwellings
Consumer electronics have invaded our homes… and they're not going away. Junior has his iPhone sitting next to him as he's playing his X-box… Dad is surfing the Internet on his laptop while watching the football game; and Mom's looking for recipes on her tablet while cooking in the kitchen. Cisco predicts that there will be 25 billion connected devices in 2015 and 50 billion by 2020. Specifically looking at the kitchen, in the last six years, research shows that homeowners have more than tripled the use of computers in their kitchen (computer use in the kitchen in 2006 was 6 percent; today it's 20 percent*).
"Manufacturers are quickly realizing that families are tired of tripping over cords and accessories, and are now looking for ways to not only seamlessly hide – but also fluidly integrate – electronics and everything that goes with them in a way that's aesthetically pleasing," explains Jack Suvak, senior director of market research and insights, Moen.
According to The New York Times (March 28, 2012), "Now that décor brands see personal tech tools like tablets, e-readers and laptops as permanent houseguests, more are creating furnishings that better accommodate how consumers use the devices in the home."
Specific product examples of technology use in the home colliding with consumers' need for home products that fit their lifestyle include:

iCon Bed from Hollandia – features a headboard equipped with speakers, an amplifier and docking stations for two iPads.
The Nest Learning Thermostat – shares the same designer as the iPod, and automatically creates a temperature-control schedule personalized around your lifestyle; while also saving energy.
MotionSense™ from Moen – adds hands-free technology to a kitchen faucet, utilizing advanced sensors to detect movement in two sensing zones, setting water flow in motion, as if on command. With MotionSense, tasks like washing dishes, filling a glass of water and preparing the evening meal are simplified. It's like having a second set of hands in the kitchen – perfect for when your hands are too full or too dirty to turn on the faucet.
"The digital world may be constantly evolving and changing, but one thing is certain – as technology continues to infiltrate virtually every aspect of our lives, and every nook and cranny of our homes, manufacturers will be challenged to develop solutions which make the tech invasion as seamless – and stylish – as possible. At the end of the day, it's all about providing products which not only work well; but look great," added Suvak.
For more information about consumer behavior trends from Moen, visit moen.com.
###
Research Institute for Cooking & Kitchen Intelligence – 2012 Remodeler's 360 Study
About Moen
As the #1 faucet brand in North America, Moen offers a diverse selection of thoughtfully designed kitchen and bath faucets, showerheads, accessories, bath safety products and kitchen sinks for residential applications – each delivering the best possible combination of meaningful innovation, useful features, on-trend styling and lasting value. In addition, Moen® Commercial offers superior performing products that deliver lower lifetime costs for today's facilities.
Moen has worked diligently to support, promote and advance sustainability within the organization and the plumbing industry. The company has been recognized with the 2011 EPA WaterSense® Excellence Award, as well as the 2010 EPA WaterSense Manufacturer Partner of the Year Award, for its work to protect the future of our nation's water supply through the introduction and ongoing support of water-efficient products, programs and practices, while keeping consumers' needs top-of-mind.
Moen is part of Fortune Brands Home & Security, Inc. (NYSE: FBHS), which creates products and services that help fulfill the dreams of homeowners and help people feel more secure. The company is a leader in the home and security industries and features well-known and trusted brands like Moen® faucets, Master Lock® padlocks and security products, MasterBrand Cabinets™, Therma-Tru® entryway systems and Simonton Windows®. For more information, please visit http://www.fbhs.com.
WaterSense is a registered trademark of U.S. Environmental Protection Agency (EPA).
Contact:
Jennifer Allanson or Jamie Dalton
Falls Communications
(216) 696-0229
jallanson(at)fallscommunications(dot)com or jdalton(at)fallscommunications(dot)com