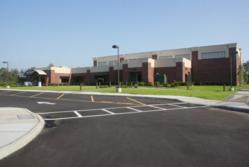 "Communities often depend on local businesses to be up and running as quickly as possible. This helps restore confidence in their neighborhood and inspires their rebuilding process."
(PRWEB) November 26, 2012
In the face of adversity, a helping hand goes a long way. From North Carolina to Maine, local residents experienced the disastrous effects of Superstorm Sandy. Nearly a month since the massive storm thrashed through the Atlantic Ocean and made landfall in New Jersey with 80 mph winds, there are still areas that remain flooded. The storm surge and high winds from Sandy left thousands without power and others without homes or businesses.
The response to Sandy has been overwhelming. Many residents affected along the northeastern coast have been supplied with food, shelter and basic necessities. From across the United States, volunteers have donated time and funds to help victims find relief. Local organizations and neighbors have helped each other and have gone above and beyond in this difficult time.
At the Boys and Girls Club of the Bellport Area, a Long Island community, it was business as usual after the storm, even though local schools remained closed. Resource Development Director, Danielle Perillo said, "Luckily the club, members and staff are doing well and didn't experience any damage… everyone is safe and sound!" The Boys and Girls Club of the Bellport Area recently moved into their new clubhouse, an Allied Steel Buildings structure, which officially opened this past August. The new state-of-the-art, 28,000 sq. ft. clubhouse was built to withstand 120 mph winds, and provided the children with a safe place to gather after the storm.
None of the Allied Steel Buildings customers in the New York and New Jersey area reported damage after assessment. This disastrous event prompted Allied to launch a new Disaster Recovery program which is extended to businesses and community organizations affected by natural disasters that are in need of prefabricated steel buildings. For those who qualify, the program will make it possible to receive a steel structure at cost and may be eligible for expedited delivery service. Qualified recipients will be able to receive this benefit whether it is a permanent replacement structure or a temporary building solution. "Communities often depend on local businesses to be up and running as quickly as possible. This helps restore confidence in their neighborhood and inspires their rebuilding process," added Michael Lassner, Allied Steel Buildings CEO.
What makes this program feasible is the capabilities of Allied's engineering and project management departments. Together they design and engineer each building, so its delivered prefabricated and ready to construct. Building with steel is far different than other building materials and offers added benefits. With a pre-fabricated steel structure, the materials are delivered on site ready to assemble, thus making it a more viable and timely solution than conventional construction methods.
Lassner had the vision for Allied Steel Buildings' Disaster Recovery program after watching the response for victims of Superstorm Sandy by the American Red Cross. The American Red Cross has been instrumental during the recovery phase, and has received an outpour of support for their disaster relief program. To donate funds visit https://www.redcross.org/donate. Contributions go to the continued support of victims after Sandy such as food, and shelter. The Red Cross has also handed out tens of thousands of bags of emergency relief supplies.
It is the generosity of many that has helped those in need residing on the eastern seaboard. For the families still living in tents, and those without power, this support gives them a foundation of hope to build on. This is just the beginning for Allied Steel Buildings' Disaster Recovery program, an extension of Allied's philanthropic initiative Allied Cares, which will provide support throughout the world. This fundamental ideology extends their mission, We're With You All The Way.
About Allied Steel: Allied Steel Buildings is a leading supplier of pre engineered steel buildings and prefabricated metal buildings systems. At Allied Steel Buildings, we offer exceptional prefab metal structures with outstanding customer service, committed to assisting you through each step of the building process. Our projects have been completed around the world, with a concentration in the Americas and the Caribbean. For assistance from our Project Managers, including design services and expert tips call 877-997-8335.