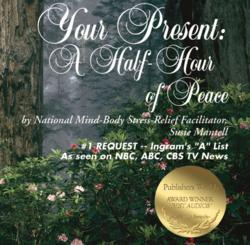 "Susie Mantell's voice surrounds nerve endings like salve. Don't ask how. It just does. Here's help for back spasms, headaches, sleeplessness -- You name it!" (Denver's Rocky Mountain News)
Chappaqua, NY (PRWEB) November 30, 2012
Holiday Shopping – Wrapping – Cooking – Invitations – Celebrations... Hyperventilation?
I don't know how Norman Rockwell's family did it. Balancing The Holidays with year-end business can stress even the most deft multi-taskers. As Christmas, Hanukkah and a New Year sparkle (or loom) on the horizon, bestselling author and award-winning stress relief facilitator Susie Mantell of Relaxintuit.com shares 10 Simple Holiday Tips to Reduce Christmas Stress, Anxiety, Depression & Debt. This year, try these and enjoy healthier, happier, more meaningful holidays.
1. Eliminate mad dashes to the market or mall by creating a Holiday timetable. Avoid Christmas Eve midnight wrap-a-thons by wrapping a few presents a day, as you buy then.
2. Collaborate to Cut Work in Half. Cook 2 pots of chili, while a friend whips up 2 batches of cornbread. Voila! Dinner for 2 households. Trade off childcare with neighbors, and coordinate shopping trips by buying Christmas gifts on each other's lists. Ask family members to reassess especially labor-intensive traditions. Is there a simpler way that's still fun?
3. Simplify Gift Shopping. Wish lists can make holiday shopping so much less stressful. Surprises are terrific fun, but so is opening up just what you were hoping for!
4. Be a Savvy Shopper. Browse Internet customer comments and deals before venturing into stores. Ordering online? Patronize trustworthy, secure sites that offer customer service via phone. Billing mistake? Ask your credit card issuer to address it for you with the merchant. Carefully inspect merchandise. Review warrantees. Keep all holiday gift receipts and returns policies in a folder.
5. Debt is Not a Gift. If you can't afford an item, it's time for Plan B. (Alternate: Wrap a toy model with a rain-check, explaining that it will arrive after Christmas when it's on sale.) January 2nd, start a Holiday account and make auto-transfers. You'll be thrilled next December.
6. Put Your Health on Top of Your List. Reduce holiday stress and soothe depression with healthy breaks. Schedule naps, mindfulness meditation, movies, time for fun, massage. Find 6 things a day that make you smile. Smiling sends a mind-body "All's Well" signal. Enjoy pleasurable exercise, nutritious foods, and when you splurge, savor every morsel.
7. Share Cheer: Kindness is a surefire stress-buster. Pause to let someone parallel park. Feed a stranger's meter. Ask somebody without plans to come to your holiday dinner. Leave generous tips, especially at the holidays. Say "Thanks" to at least 5 people a day. A friendly, appreciative smile is an easy way to relieve another's stress – and your own.
8. Make 10-Minute Dates. Amid holiday hubbub, a quick cup of decaf with a friend can work wonders for relieving stress. Friends out of town? Schedule video or phone chats.
9. Solo This Holiday Season? Arrange dinner with co-workers, take a long-weekend, lend a hand to those less fortunate, sing in a choir. Paint a room a new color. Adopt a pet. Invite neighbors for a games night.
10. Looking for Some Healthy Stress-Buster Gift Suggestions? Check These Out. (pdf)
HOLIDAY SAFETY TIP: Amid holiday festivities, some indulge to excess. Addictive behaviors may surface. Some experience Seasonal Affective Disorder, or holiday depression. Always err on the side of caution. If someone's safety becomes a concern, get to an emergency room right away. While mild "winter blues" are not uncommon, thoughts of self-harm or aggression should be addressed professionally, and immediately. There are too many wondrous possibilities just around the corner to ever risk injury. As the adage goes, "Don't give up one hour before the miracle!"

Stress Relief Expert/Author Susie Mantell... -
... facilitates stress management for clients including Ford Motor Company, New York Presbyterian Hospital, AETNA, Verizon and Canyon Ranch. Featured by ABC, NBC, CBS TV, The Los Angeles Times and leading magazines, Mantell's award-winning meditation CD, 'Your Present: A Half-Hour of Peace,' ("Best Audios Award" –Publishers Weekly) is clinically approved for deep relaxation, to relieve symptoms associates with stress, sleep disorders, anxiety, grief, trauma, depression and pain. Buy 5 -- Get 6 on Relaxintuit.com
(ISBN #978-09650724-10, $14.95 U.S)
About Relax Intuit™ LLC (http://www.relaxintuit.com)
Based in Westchester County, NY, Relax Intuit™LLC is a highly ethical provider of acclaimed stress relief expert Susie Mantell's seminars for corporations and medical professionals, and her award-winning guided imagery meditation for relaxation, "Your Present: A Half-Hour of Peace."(CD) Mantell also provides individual stress management phone consultations by appointment. Relaxintuit.com and Susie Mantell's work are intended as an adjunct to, never a substitute for, professional health care. Visitors and clients should always consult their own licensed medical and mental health professionals regarding any practice or suggestion that might in any way affect an individual's health or safety. Twitter @relaxintuit