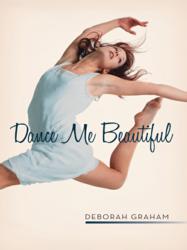 My instructor asked me what I wanted to get from dancing. I startled myself with my answer: 'Dance me beautiful.'
Toronto, Ontario (PRWEB) November 28, 2012
Benefits of dancing range from strengthening and toning to reducing stress and building confidence. But one woman seeks the art for something even deeper: To survive her divorce.
"My life was everything I had imagined it would be – and then my marriage crumbled and ended," said Deborah Graham, Toronto lawyer and author. "As a divorce lawyer, I knew what needed to be done legally, but I had no idea how to emotionally survive it."
Fighting fear, shame and vulnerability, Graham unexpectedly turned to ballroom dance. She chronicles her journey from struggle and negativity to courage, self-worth and beauty in her new book, Dance Me Beautiful.
"At my first lesson, my instructor looked me in the eye and asked me what I wanted to get from dancing," Graham recalled. "I startled myself with my answer: 'Dance me beautiful,' was all I could say."
Dance Me Beautiful follows Graham's progression from awkward first lessons to finding the courage to enter her first competition, her physical journey mirroring her personal one to find inner beauty and strength.
"I found myself through ballroom dance," Graham said, "But whatever your medium, you must do whatever it takes to open your heart and trust in the joy of life."
For more information, visit http://www.dancemebeautiful.com or http://www.deborahgraham.ca.
Dance Me Beautiful
By Deborah Graham
ISBN: 978-1-4759-3387-1
Retail price: $9.95
Available at http://www.amazon.com.
About the author
Deborah Graham is a collaborative family lawyer, mediator and part-time professor. Graham grew up in Toronto, Ontario, where she now lives with her son and dances at Pollock Dance Studio. She graduated from Osgoode Hall Law School, married her high school sweetheart, and separated a few years later. Graham has also written a children's chapter book called The Magic Comes Back, which she is self-publishing this year.