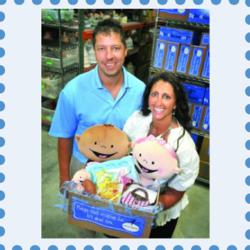 [We] share the same values, which is key when it comes to raising our kids, running a company, treating our employees and appreciating our customers.
~ Sherri Yukel, Founder and President
Menomonie, WI (PRWEB) November 27, 2012
Even with its success as a major online retailer and creator of unique party supplies, Big Dot of Happiness, LLC, continues to showcase its 13-year commitment to family – its own, and that of its team members and customers. This online party planning company regularly honors its employees in unique and exciting ways, encourages team members to include family when commemorating company milestones, and is devoted to helping customers celebrate special life occasions like baby showers and birthday parties in the most remarkable way possible. But perhaps the best example of this company's unique commitment to family is the duo that runs it: The husband-and-wife team of Scott & Sherri Yukel.
"Working with your spouse is a regular reminder of the importance of family," says Sherri Yukel, founder and president of all Big Dot Shops. "Just like any other partnership, patience and understanding is required – after all, there are peaks and valleys. But when it comes right down to it, we're a team."
That partnership started just a few years after Sherri founded the company in 1999. A stay-at-home mom with two small children at the time, Sherri started crafting her own baby gifts and was soon receiving regular requests. She turned to the Internet to sell her products online and orders for her original character towels and other gift items quickly grew – so much, in fact, that her husband left his engineering job and joined her!
A few years and three buildings later, they now work together to run a company of 50 employees in a 20,000-square-foot facility that offers original party themes, invitations, games and other party planning necessities. "Creator of Dots" Sherri Yukel manages the creative side of the company while "Connector of Dots" and CEO Scott Yukel manages the business side.
"Scott and I share the same values, which is key when it comes to raising our kids, running a company, treating our employees and appreciating our customers," says Sherri Yukel. "The more support we give each other and our team, the more they'll grow and, in turn, provide remarkable service to our customers and make these once-in-a-lifetime occasions even better!"
About Big Dot of Happiness, LLC
Big Dot of Happiness, LLC, is an event party company and the originator of various games, invitations and themed party supply products called "Big Dot Originals." With personalized invitations, impressive party favors and unique party decorations, Big Dot of Happiness, LLC, makes every day parties into extraordinary events. Making life's occasions fun. It's about time. "We create remarkable smiles by embracing a remarkable culture."
Contact:
PR Coordinator
Big Dot of Happiness, LLC
1.800.274.4282