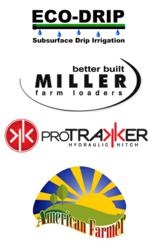 Jupiter, FL (PRWEB) November 26, 2012
DMG Productions announced today that an upcoming episode of American Farmer, centered on innovations in the agriculture industry, will air on Tuesday, November 27, 2012, at 8:30 a.m. EST on RFD-TV.
This episode provides viewers with a behind the scenes look at the agriculture industry, featuring three different companies whose innovative farming technologies are revolutionizing the industry.
In this episode, American Farmer will feature Eco Drip, a family owned business that installed its first subsurface drip irrigation system in 1980 on the family's 13-acre watermelon patch. Audiences will be captivated as they learn about Eco Drip's irrigation system that has designed and installed over 150,000 acres, created with some of the best designs, and installed with the most reliable products.
American Farmer will also feature Agile Manufacturing, a company that is responsible for bringing farmers the Miller Loader, one of the most rugged, yet maintenance free pieces of farm machinery available today. Viewers will be taken behind the scenes, and learn how these high-tech pieces of machinery are making significant changes in the industry.
Additionally, this episode will showcase MBW Products, maker of the ProTrakker Hydraulic Hitches, which provides farmers with the most cutting edge technology available in the field of precision agriculture. The ProTrakker Hydraulic Hitch is poised to save farmers time, energy and money while maximizing crop yield. This particular segment will focus on the practice of implement steering, and how it is changing the world of precision agriculture. Spectators will be taken behind the scenes and learn about the many high-tech features of the ProTrakker Hydraulic Hitch.
"Audiences will be amazed at the information provided to them in this episode of American Farmer," said Charlie Cowan, Senior Producer for the show. "I'm excited to be able to bring this information to our viewers."
About American Farmer:
American Farmer is a breakthrough program on a mission to showcase the latest advancements in agriculture and farming. From seed to harvest, livestock and more, our producers have traveled the country covering the people, places and issues impacting all areas of farm country.
About DMG Productions:
The DMG production team consists of producers, cameramen and editors that have worked for CNN, TLC, Discovery, and other major news and cable networks. Our staff includes personnel specialized in various fields from agriculture to medicine, independent films to regional news. Our field producers utilize the core concepts from our producers who storyboard our programs, and work closely with experts in the field to develop the educational programs. This powerful force enables us to consistently produce commercial-free, educational programming that both viewers and networks depend on.
Contact:
Charlie Cowan
Senior Producer, American Farmer / DMG Productions
(866) 496-4065 X 875
charles(at)dmgproductions(dot)org