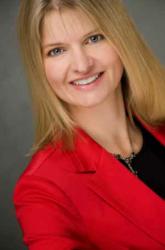 Atlanta. GA (PRWEB) November 26, 2012
Carol Morgan, managing partner of Marketing RELEVANCE, recently won the Chairman of the Year Award at the 32nd OBIE Awards. The OBIE awards, held annually, are presented by the Greater Atlanta Home Builders Association in order to recognize outstanding achievement within the local home building industry.
The Chairman of the Year award honors outstanding leadership at the council level. The award recognizes achievement in the areas of education and membership development within the local council.
Carol joined the Greater Atlanta Home Builders Association in 2003 and has been an active participant ever since. She has been the Chairman of SMC (2012), member of the Sales and Marketing Council and the 50+ Council and recently was instrumental in forming the local Professional Woman in Building (PWB) Council, which currently has 63 members and is one of the largest chapters in the country.
In addition to Carol's local HBA involvement, she is also involved in the National Association of Homebuilders Professional Women in Building council as a Regional Trustee, a Trustee to the Institute of Residential Marketing and the National Sales and Marketing Council.
Carol has spoken at a number of tradeshows including the International Builders Show and 21 Century Building Show and Expo. She speaks frequently to Sales and Marketing Councils and PR groups and teaches social media seminars at home builders associations around the country.
Author of the top-selling BuilderBooks "Social Media for Home Builders 2.0," Carol Morgan has been blogging since long before blogging was cool. She is the visionary behind the nationally-ranked and award-winning http://www.AtlantaRealEstateForum.com, Atlanta's most popular real estate blog. Her launch of the site in 2006 was truly visionary and led the new media movement in the Atlanta new homes market.
With more than 20 years of public relations experience, Carol has established herself as the "go to" for real estate and construction products public relations and social media. Carol is managing partner of mRELEVANCE, LLC, a Marketing, Communication and Interactive agency with offices in Atlanta and Chicago. In fact, for the past several years, her clients have won numerous OBIE awards in many internet and social media categories.
When Carol is not focused on her clients or helping out the industry, she enjoys spending time with her son on their 20 acre farm, taking care of their three horses, two dogs, eight cats, four goats, a donkey, a turtle and a big bunny.
About the OBIE Awards: The OBIE Awards began in 1980 and have grown throughout the years to now feature more than 100 building, remodeling, marketing and personal achievement categories in which to enter. The OBIE Awards, named after the obelisk shape of the actual award given, are the premier awards in the new home construction industry. Awards are given to recognize outstanding achievement in new home building, marketing, remodeling and personal achievement categories. The Sales and Marketing Council of the HBA presents the annual OBIE Awards every November. OBIE Award recipients stand out among their peers and are recognized for their outstanding achievements.
About Marketing RELEVANCE LLC: Marketing RELEVANCE creates relevant marketing and communications that reach audiences with focused and strategic messages. Through technology and creative content, messages are delivered to target markets to encourage customer action and interaction.
With offices in Atlanta and Chicago, Marketing RELEVANCE can connect your company with buyers and build relevant relationships nationwide. For more information, visit http://www.mRELEVANCE.com, Like us on Facebook at http://www.Facebook.com/mRELEVANCE, Follow us on Twitter at @mRELEVANCE or call 770-383-3360 or 847-259-7312.