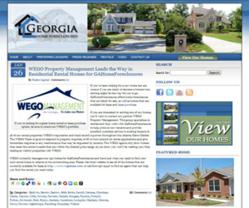 Atlanta, GA (PRWEB) November 28, 2012
Marketing RELEVANCE was recently honored by the Greater Atlanta Home Builders Association with three OBIE awards for marketing. All three awards were for work done for Rialto Capital to promote its GA Home Foreclosures website. The awards are:

GOLD OBIE – Best Website (Associate)
GOLD OBIE – Best Online Banner or Box Ad
SILVER OBIE – Best Social Media Campaign
Carol Morgan, managing partner of mRELEVANCE, LLC commented, "We are thrilled to be honored by the building industry for our work for Rialto Capital. We built and launched the http://www.GaHomeForeclosures.com website in 2011 and designed a social media and advertising campaign to drive traffic to the site. The traffic to the site and Rialto's sales success prove the effectiveness of the marketing strategy, and these awards are just icing on the cake."
About the Greater Atlanta HBA OBIE Awards: The Greater Atlanta Home Builders Association's OBIE Awards celebrates its 32nd anniversary in 2012. The awards began in 1980 and have grown throughout the years to now feature more than 100 building, remodeling, marketing and personal achievement categories. The OBIE Awards, named after the obelisk shape of the actual award given, are the premier awards in of Atlanta's residential building industry. To see more OBIE award winners, visit http://www.AtlantaRealEstateForum.com/OBIEs __title__ OBIEs [Atlanta Real Estate Forum __title__ Atlanta Real Estate Forum].
About Marketing RELEVANCE LLC: Marketing RELEVANCE creates relevant marketing and communications that reach audiences with focused and strategic messages. Through technology and creative content, messages are delivered to target markets to encourage customer action and interaction.
With offices in Atlanta and Chicago, Marketing RELEVANCE can connect your company with buyers and build relevant relationships nationwide. For more information, visit http://www.mRELEVANCE.com, Like us on Facebook at http://www.Facebook.com/mRELEVANCE, Follow us on Twitter at @mRELEVANCE or call 770-383-3360 or 847-259-7312.