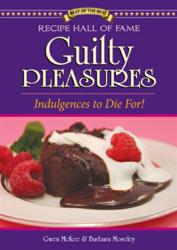 Barbara Moseley and I are making no bones about being proud to bring you a 'scrumpdillyumptious' collection of downright delicious indulgences...
Brandon, MS (PRWEB) November 26, 2012
As the holiday season quickly approaches, home cooks all over America are contemplating what tempting sweets to prepare for their friends and family. Fortunately, Quail Ridge Press can help make these decisions a little easier with the release of their new cookbook, Recipe Hall of Fame Guilty Pleasures. This tempting new cookbook presents a luscious assortment of desserts and sweet treats that are sure to entice any palate, collected from all over the United States.
Gwen McKee, co-editor of this stunning recipe collection notes, "I have to believe that these sorts of guilty pleasures ought to be around for the times when we absolutely need them. Okay, want. But regardless, Barbara Moseley and I are making no bones about being proud to bring you a 'scrumpdillyumptious' collection of downright delicious indulgences in this cookbook. Having been around thousands of cookbooks for more than thirty years, believe me, these fabulous recipes are all Recipe Hall of Famers, for sure."
Guilty Pleasures contains nearly 200 mouthwatering recipes that are so scrumptious, you won't even consider feeling guilty. With entire chapters devoted to cakes, cheesecakes, cookies, brownies and squares, breakfast sweets, and various other treats, this new cookbook is sure to become your go-to guide for something sweet. Inside this decadent collection can be found traditional favorites, such as Lemon Crumb Squares, Fried Apple Pies, and Sticky Buns, as well as updated classics with a delectable twist, like Amaretto Cheesecake, Chippy Peanut Butter Cookies, Bourbon Pecan Butterscotch Pie, Milk Chocolate Banana Crème Brûlée, and the over-the-top Decadent Chocolate Cake. Furthermore, completely original concoctions are in no short supply, including The Richest Lunch Box Cookies Ever and Strawberry Lasagna. Better yet, many of these recipes are accompanied by gorgeous color photography that will entice your eyes as well as your stomach.
This new cookbook was compiled and edited by Gwen McKee and Barbara Moseley, the ladies who have produced over a hundred cookbooks in the past 32 years. McKee and Moseley hand-picked these recipes from the database of more than 25,000 award-winning recipes included in Quail Ridge Press' nationally acclaimed Best of the Best State Cookbook Series, which has sold more than 3.5 million copies to date.
Guilty Pleasures is the eighth book in the BEST OF THE BEST RECIPE HALL OF FAME COLLECTION, which has been immensely popular among home cooks all across America, coming just after the collection's previous release Hall of Fame of Southern Recipes, which sold out in record time and had to be reprinted immediately. Each of the other HALL OF FAME COOKBOOKS sold more than 100,000 copies on QVC during their initial launch.
Recipe Hall of Fame Guilty Pleasures Cookbook is scheduled for release in December 2012, and will be available everywhere books are sold. Cookbooks may also be ordered directly from Quail Ridge Press by calling 1-800-343-1583 or visiting our website at http://www.quailridge.com.