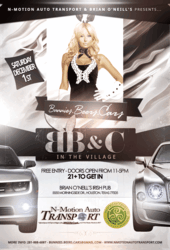 Bunnies Beers & Cars
Houston, TX (PRWEB) November 27, 2012
N-Motion Auto Transport & Brian O'Neill's have teamed up to present "Bunnies, Beers & Cars", an exotic car show featuring Playboy models and cocktails. Come join us to launch this red carpet event at Brian O'Neill's on Dec.1, 2012. Guests will enjoy live music and cocktails from 11am-5pm while strolling through the maze of high end vehicles nestled among the wide array of beautiful models. Food & drink specials available all day. Kick off the holidays in style and come out for some fun in the Village.
In conjunction with the many event festivities, Vertical Smiles girls will be keeping the crowd energized and perpetually turning heads. They will be modeling with some of the most lavish vehicles on the planet and signing their new 2013 calendars.
Check out Vertical Smiles
Last year, N-Motion Auto Transport had an exotic car show called Wine & Rides in the Village. The guest list was full and the attendance far exceeded expectations. N-Motion is predicting an even greater turnout for this upcoming event. From some of the rarest Lamborghini's to even one of the highly talked about Fast and the Furious 5 rides, guests won't be disappointed.
For all car shipping and auto transport needs, call N-Motion Auto Transport today!
http://www.NMotionAutoTransport.com
1-855-407-4160