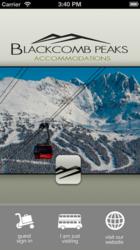 Visitors will have Whistler at their fingertips with the Blackcomb Peaks mobile app. —Jamie Whittaker, Customer Service Manager
Whistler, BC (PRWEB) November 26, 2012
Blackcomb Peaks Accommodations, a Whistler Blackcomb vacation rental company, is excited to announce the launch of a new mobile app that caters to guests vacationing in properties managed by Blackcomb Peaks as well as people interested in learning more about Whistler. Managing over 45 lodging properties in the world-class Whistler Blackcomb Resort, is the source for beautiful Whistler lodging at affordable rates.
The Blackcomb Peaks Accommodations mobile app is a free download for the Apple iphone, ipod touch, and ipad, and it is also available for the Android phone. The app works for Blackcomb Peaks guests and for those planning a trip and researching Whistler Blackcomb. Upon Whistler accommodations with Blackcomb Peaks, guests will receive an email inviting them to download the app before arrival in Whistler. The app provides a variety of information that guests can use before, during, and after their stay. Helpful tips like directions to the property, arrival and property details, and area advice including restaurant, activity, and event recommendations.
"We are excited to offer our guests an improved experience with this mobile app. The app gives our rental guests direct access to helpful Whistler information, maps, directions, and more. Visitors will have Whistler at their fingertips with the Blackcomb Peaks app."
The Blackcomb Peaks app also offers a useful map feature that locates the guest's Whistler rental property using GPS, and all dining, event, and activity recommendations can be viewed based on what is closest to the vacation property and to the guest at any time. Guest will always know how to get to the next adventure, and there will be no trouble getting back to the vacation rental at the end of the day.
For those using the app as a visitor rather than a guest of a specific Blackcomb Peaks property, the app still offers the same user-friendly dining, activity and event recommendations. The app also has information on every vacation property managed by Blackcomb Peaks Accommodations, including detailed descriptions and photos, allowing people to browse and book a property directly from the app. And for those that might wish to view a property in person for a future visit to Whistler, app users can use the map view to locate the properties they are interested in.
Download the app for the iphone, ipad, and ipod touch at https://itunes.apple.com/ca/app/blackcomb-peaks-accommodations/id574955144?mt=8&ign-mpt=uo%3D2 and find it for the Android at http://www.1mobile.com/blackcomb-peaks-accommodations-623158.html.
About Blackcomb Peaks Accommodations
Blackcomb Peaks Accommodations offers year-round accommodations in the heart of Whistler and Blackcomb, British Columbia's year-round alpine resort. With 45 Whistler condominiums and townhomes in a variety of sizes, visitors can find any type of property through Blackcomb Peaks. Amenities include ski-in ski-out access, pools, hot tubs, private balconies, fireplaces, and more. Family-owned and locally-operated, Blackcomb Peaks offers personal and professional service. Blackcomb Peaks—Whistler's accommodation leader.