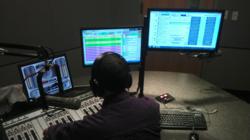 [Skyview Networks] provide exemplary service at an attractive price point and we look forward to partnering with them for many years to come.
Phoenix, Ariz. (PRWEB) November 27, 2012
The National Basketball Association's (NBA) Memphis Grizzlies and Skyview Networks announced today a new multi-year broadcast solutions agreement. With Skyview Networks, the franchise receives an all inclusive play-by-play radio solution: satellite distribution, wise satellite receivers, F.A.S.T. (Flexible Audio Storage Technology) Affiliate Web Automation and the F.A.S.T. Inventory Management software. The partnership aims to streamline broadcast operations for more efficient and accurate inventory tracking.
"Skyview Networks provide a turnkey solution for inventory management, on-air integration and radio network distribution," said Randy Stephens, Senior Vice President of Broadcast for the Memphis Grizzlies. "They also provide exemplary service at an attractive price point and we look forward to partnering with them for many years to come."
Skyview Networks' systems work together to create a bridge between the different aspects of the team's play-by-play broadcast. This connectivity provides the broadcast and sales departments with a real-time panoramic view of all contracts, inventory and scheduling. The Memphis Grizzlies will utilize F.A.S.T. Inventory Management most specifically to track inventory and advertiser placement. F.A.S.T. will also auto-generate invoices and affidavits to expedite the billing process and provide proof of performance.
Skyview's distribution and affiliate automation further integrate the broadcast operation for both the franchise and its affiliate network. With this technology, the franchise will have the ability to offer advertisers the benefit of copy split-spot insertion. This feature allows different versions of an advertisement to air simultaneously in different network markets to localize messaging. For affiliates, the technology provides time shifting capabilities and the security of a back up streaming audio feed. This receiver technology, coupled with Skyview's F.A.S.T. Web Automation, provides affiliates an affordable and reliable solution to carry a full season schedule.
"We feel confident that our services are the right fit for the Grizzlies and they will enjoy the benefits of our system integration, including the accurate and detailed inventory tracking," said Matt Stys, Vice President Business Development of Skyview Networks. "We look forward to the season ahead and to building a lasting partnership."
The Memphis Grizzlies radio broadcast hosted by Eric Hasseltine can be heard on flagship station WMFS-FM 92.9 and its radio network of 10 affiliates. For more information on the Memphis Grizzlies 2012-2013 season, visit http://www.nba.com/grizzlies.
Skyview broadcasted the first network-wide Memphis Grizzlies regular season game October 31, 2012.
Memphis Grizzlies
Fans who want to support the Memphis Grizzlies and purchase 2012-13 Season Tickets, or 10- and 20-Game Packs can do so by calling (901) 888-HOOP or going online to grizzlies.com. Tickets for the Plaza IV and Terrace IV sections are already sold out.
Skyview Networks
Skyview Networks currently provides the broadcast services for over 50 professional and over 50 collegiate sports organizations and produces and delivers Arizona News Radio and California Headline News. Founded in 1995, Skyview is based in Scottsdale, Arizona and focuses on providing broadcast network solutions to professional and collegiate sports and syndicated radio. Skyview's services include satellite distribution, full network automation, affiliate relations, inventory management systems and advertising solutions for radio, television, print, signage and web. For more information, visit http://www.skyviewnetworks.com.
Contacts:
Renee Thiele, Skyview Networks PR
renee(at)skyviewsat(dot)com
(480) 503-8702
Jason Wallace, Memphis Grizzlies PR
(901) 205-1409