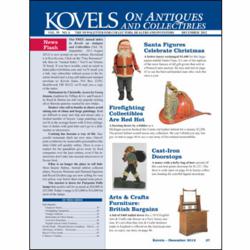 Cleveland, Ohio (PRWEB) November 27, 2012
The December 2012 "Kovels on Antiques and Collectibles" newsletter is now available in print and online.
A large composition Santa candy container with a rabbit fur beard sold for over $5,000 and was the most expensive Santa figure in a "Kovels on Antiques and Collectibles" sale report—part of the just-published December 2012 issue. Dozens of Santa figures, including several "belsnickles" were among more than 100 Christmas collectibles sold at the pre-holiday auction. Antique and vintage firefighting equipment from a single 50-plus year collection was up for sale at a fall auction in Michigan. Bidders had lots to choose from—everything from full-size antique fire trucks to helmets and fire buckets were on the auction block. A hand-operated water tub from the early 1800s with a historical connection was the top seller at $110,000. Photos and descriptions of some of the memorabilia are shown in Kovels' December newsletter. More and more auctions are offering women's fashions and collectors often wear the clothes they buy. Kovels' December newsletter has pictures and prices of '50s and '60s couture that sold at a fall auction, where colorful vintage clothing sold for a wide range of prices.
Kovels' December newsletter also reports on a sale of figural cast-iron doorstops, where the prices ranged from just over $100 to just over $7,000. Arts and Crafts furniture that was made in England and sold for under $1,000 is also featured, as well as character steins—beer steins shaped like people or animals that were made in Germany in the late 19th or early 20th century. December's Dictionary of Marks shows marks found on cast-iron doorstops and Terry Kovel shares more from her "on the road" trip to an antiques show in Ohio. Regular monthly features are here, too—the popular illustrated Collector's Gallery has answers to readers' questions about an Anton Pearson wood carving, a Japanese woodblock print, an old Wheaties box, and a Roseville vase. The Buyer's Price Guide lists current prices of dozens of antiques and collectibles.
With its mixture of expert advice and reports on what's hot in the market, Kovels' newsletter has something to offer for both beginning and experienced collectors. "Kovels on Antiques and Collectibles" is available as a print subscription or as a digital downloadable version that is part of the Kovels.com Premium subscription.
Terry Kovel, well-known columnist and author, gives information and advice on collecting. She will discuss antiques and collectibles topics with accredited media. Photographs are available. Contact pr(at)kovels(dot)com.
About Kovels.com
The online website, Kovels.com, created and managed by Terry Kovel and Kim Kovel, provides collectors and researchers with up-to-date and accurate information on antiques and collectibles. Kovels' Antiques was founded in 1953 by Terry Kovel and her late husband, Ralph. Since then, Kovels' Antiques has continually published some of America's most popular books and articles about antiques, including the best-selling "Kovels' Antiques and Collectibles Price Guide," now in its 45th edition. The Kovels' website, online since 1998, and free weekly email, "Kovels Komments," give readers a bird's-eye view of the market through up-to-date news, auction reports, an online Price Guide, a Marks Dictionary, readers' questions with Kovels' answers and much more.
Contact Information:
Liz Lillis
216.752.2252
pr(at)kovels(dot)com