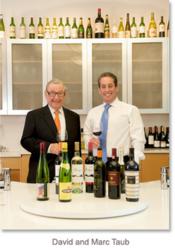 Italian fine wine promotion in USA by the Taub Family and VeronaFiere
(PRWEB) November 26, 2012
To promote the continued growth and development of Italian fine wine in the U.S. on-premise sector, VeronaFiere is pleased to offer the Taub Family Vinitaly Italian Wine Scholarship. Now in its third year, this annual scholarship provides applicants the opportunity to be awarded an all-expenses-paid professional, educational trip to the 47th annual Vinitaly trade show in Verona, Italy from April 7-10, 2013. Eligible candidates working with wine in the on-premise sector are invited to submit applications from now through January 15, 2013 at http://www.italianwinescholarship.com.
The Taub family founded Palm Bay International in 1977, and over the past 35 years and three generations has built the company into one of the leading wine and spirits importers in the United States. Father and son team Martin and David Taub launched Palm Bay with just two Italian brands, and quickly forged a reputation as pioneers and advocates in the expansion of the world of Italian wine. In particular, David's vision and drive developed the path for Pinot Grigio to become the number one Italian wine in America. Today, David's son
Marc D. Taub stands at the helm of this quintessential family business, and carries on his family's legacy together with Palm Bay's 200+ employees. The Taub family is pleased to lend their name to this important scholarship that VeronaFiere organizes.
Applicant Requirements
In order to be considered for this scholarship, applicants must be 21 years of age or older, currently actively employed in the on-premise sector within the U.S., and must have a direct connection to the wine program within their employer's establishment. They must demonstrate that they have the potential to be a wine opinion leader and have an impact on their company's wine program, customers and fellow employees.
Apply now at http://www.italianwinescholarship.com.
ABOUT VERONAFIERE AND VINITALY: VeronaFiere (http://www.veronafiere.it) achieved status as an international exhibition authority in 1977. It is the leading direct organizer of events in Italy and among the main players in Europe with an average of more than 30 shows per year, including Vinitaly (http://www.vinitaly.com), the largest wine event in the world. In 2012, over 4,300 exhibitors showcased their wines to 156,000 visitors from more than 110 countries in Verona, Italy. Vinitaly is going to its 47th edition in 2013 on April 7-10. This year's Vinitaly welcomed the debut of wines from organic and biodynamic agriculture with the new event named ViViT-Wines, Winegrowers and Terroirs. The International Wine Competition on 12-16 November also enhanced and valorized promotion and marketing tools at the service of award-winning companies.
Also in 2013 Veronafiere and Vinitaly will present the innovative venture OperaWine (http://www.operawine.it) on the day before Vinitaly (6 April) to cultivate knowledge on the intrinsic heritage, culture and character of Italian wine. The event "Finest Italian Wines: 100 Great Producers" under the OperaWine umbrella is presented in partnership with the American lifestyle magazine Wine Spectator, which unites the 100 finest wineries and their principals for one day only in the heart of Verona.
The enduring wine affair thus continues from Verona to Moscow, the US and Hong Kong (all stops on the Vinitaly 2012 Tour) and now back to Verona, where the rest of the world will converge on this grand occasion and fall in love all over again with Italian wines. Vinitaly International will return to New York (28th January 2013) and Miami (30th January 2013) with an exciting new program. For more please visit http://www.vinitalytour.com.
ABOUT PALM BAY: This dynamic family-owned company offers one of the nation's most comprehensive portfolios of imported wines and spirits, including over 50 suppliers from around the world. Among Palm Bay's most valued assets is its remarkable network of long-term partnerships with the foremost wholesale companies in all 50 states, as well as Mexico and the Caribbean. With the crucial collaboration of these partners, Palm Bay's portfolio is able to meet the needs of every level of the industry, from independent restaurants and retail stores, to chain accounts, supermarkets, hotels, airlines, cruise ships, duty-free accounts and U.S. military bases. This impressive roster of brands, accounts and relationships defines Palm Bay as a major source of fine wines and spirits and an industry leader in the U.S. marketplace. http://www.PalmBay.com.
# # #