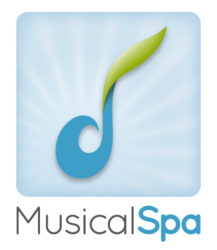 Musical Spa: Relaxing Music for Wellness
Miami, FL (PRWEB) November 29, 2012
Musical Spa is becoming a recognized brand for those seeking to improve their health by regularly listening to various relaxing and meditation music styles.
Everyday sounds and music affect our health and healing on a deep level and significant research is showing that listening to the right relaxing music can help individuals improve productivity, strengthen immune response, sleep better, promote relaxation, reduce stress, lower blood pressure and even stimulate cognitive processing and memory.
A wellness revolution is happening around the world, and with it a new generation of critical thinkers is embracing the benefits of a healthy diet and lifestyle combined with powerful natural health activities such as Meditation, Yoga and Massage, to name a few. As an important ingredient in this movement, music therapy is becoming more popular. In fact, numerous studies now show considerable health benefits to people of all ages that regularly engage in listening to relaxing and meditation music. MusicalSpa.com is a new website dedicated to helping these people on their journey towards happiness and wellness through different types of relaxation music.
Through its music label, IVM Music Production Company, Musical Spa has been successfully selling relaxing music for spa, meditation, yoga, massage, lounge and other related music styles. In just over two years, it has achieved its first sales of over 40,000 single downloads, 10,000 albums and a growing fan base on several internet radio stations. Now, Musical Spa is celebrating the launch of its website: MusicalSpa.com, which helps support its mission to provide people with the most relaxing music so they can make use of this powerful ally in their quest for longevity and health. Hospitals and healthcare professionals seem to agree that music aids the healing process of patients while improving their tolerance to pain, surgical recovery times and even enhancing premature infants' growth rates in pediatric ICUs.
For those looking to bring themselves back to health, or simply seeking a pleasurable experience through listening to relaxing music, Musical Spa can help create a soothing musical landscape to fit people's everyday life, helping the body, mind and spirit reconnect.
About Musical Spa
At Musical Spa, we create music to help you relax, unwind and reconnect with yourself and your loved ones. Our relaxing music catalog includes several styles, such as relaxation music, spa music, meditation music, massage music and lounge music, among others. Visit Musical Spa to find the most relaxing music that fits your needs.