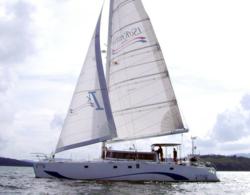 A trip round the Greek islands is one of the most stress-free and delightful experiences possible
Greek islands (PRWEB UK) 29 November 2012
It means more people will be able to enjoy the benefits of the company's huge 60ft fully-equipped and serviced catamaran which for years now has allowed guests to sail the beautiful Mediterranean, Aegean and Ionian seas in splendid solitude. The boats themselves have stopped off at up to 3500 Greek islands and drifed past thousands of miles of white sandy beaches.
Unlike smaller yachts, ISoKratia can sail in all weathers thanks to her larger-than-average size and back up equipment - which includes two generators and engines. Typical clients include families of between three and five, or groups of up to six adults.
There are no cramped conditions to worry about either. Ceilings in the yacht charter's cabins and hulls are more than 6ft high, adding to the spacious feel, while there's plenty of wardrobe space and general storage. All cabins boast queen-size beds, en-suite facilities, computer points and enjoy modern air conditioning. When they have had too much sun and sea children can enjoy the movie-style cinema screen with surround sound in the boat's saloon area.
Top class design includes granite worktops, high-quality oak wood flooring and walls in cabins and attractive walnut in the yacht's saloon area.
Owner and skipper of ISoCatamarans Chris Neophytou said: "We're aware that with the current recession many individuals and families have put holidays on the back burner deeming them too expensive."
"A trip round the Greek islands is one of the most stress-free and delightful experiences possible and we'd like to make this type of holiday available to more people by ensuring it's in a price range they can afford. We've reduced our costs and it's definitely been the right thing to do as clients have been delighted. In this current climate a relaxing holiday is all the more necessary."
And speaking of climates, ISoCatamarans are some of the safest yachts around which means holidaymakers can be assured their trip will never be cut short or delayed. Unpredictable weather has meant that in recent years smaller boats sailing round the Greek islands have been forced to discontinue journeys and stay in port with hundreds of disappointed holiday makers accepting unscheduled detours on their yacht sailing holiday or worse, being flown home.
All skippers on ISoKratia are professionally trained and experienced sailors.
Popular destinations for yacht sailing trips include the cosmopolitan Myconos and Santorini but they can also be chartered to visit smaller more unspoiled and traditional islands such as Serifos and the uninhabited Delos. Boat itineraries are very flexible with personal preferences included in the scheduling.
Chris and his team have been sailing boats in the Greek waters for years now, giving them an excellent knowledge of hidden away beauty spots and the best restaurants for romantic or party dining, as well as a crucial understanding of the seas' temperament.
To find out more about ISoCatamarans yachts or itineraries visit the website at http://www.isocatamarans.com.