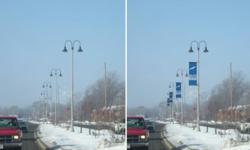 Monona, WI (PRWEB) November 27, 2012
Using Internet communications and advanced technologies, including Photoshop, Kalamazoo Banner Works (KBW) created a solution from their local offices in Kalamazoo, Mich. that provided the city of Monona, WI. with 75 banners to be installed along a busy boulevard.
When Monona, WI. officials contacted KBW, the questions surrounding this large project included more than just design, size and style of the banners. Given the sometimes extreme weather conditions in the state, local officials knew the hardware used to hang these banners would be another item to consider.
To tackle this project, KBW provided the city officials of Monona, WI. with numerous designs in varying sizes to choose form. The company also edited banners into an image provided by the city using Photoshop to provide a visual to help in the decision making process. Once the banners had been chosen, KBW recommenced appropriate banner hardware that would be able to withstand the varying weather conditions of Monona, Wis.
"Kalamazoo Banner Works provided exceptional information, data, products and services needed for our street banner project. For one street in particular, we provided a digital image showing the street light poles and KBW placed the proposed banners onto the street scene. That tool was integral in helping us decide what banners and how many we wanted to install," a Monona, WI. city official said.
In the end, even though the two cities are miles apart, through Internet communications and use of the technologies available to them, KBW worked with the city officials of Monona, WI. and created a solution for their large project, which concluded with the installation of 75 street pole banners.
Due to a growing international demand, KBW as also recently launched a French version of their website where they offer their banner bracket hardware, or as they are called in French, support de fixation de bannières.
KBW is located at 2129 Portage St. in Kalamazoo, Mich. Founded in 1983, the company now provides banners and banner brackets locally as well as throughout the United States and internationally.
KBW is a client of the Kalamazoo, MI based team of Web designers at Blue Fire Media who also specialize in web marketing and SEO solutions.