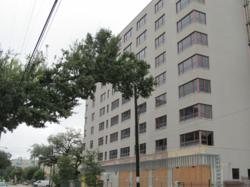 New Orleans, LA (PRWEB) November 28, 2012
Indigo Garden District Hotel in New Orleans, Louisiana, was spared window and structural damage from Hurricane Isaac after completion of the install of the Thermolite Window System in August 2012. The Indigo Garden District Hotel initially chose the Thermolite Window System for its noise reduction properties, but soon discovered the patented technology prevents window implosion from hurricane winds.
A building adjacent to the Indigo Garden District Hotel of similar size, age and design suffered window damage due to wind pressure changes that caused the windows to implode on the building.
"Many people don't realize the damage that can be done to the structure of a building when the windows are compromised," stated Therm-O-Lite Inc. President Steve Champlin. "Roofs can lift off, and the structure itself can collapse when the air pressure changes as a result of window implosion. With the destruction of Hurricane Sandy in areas with a high concentration of commercial buildings, it's more important than ever that businesses and building owners know how to protect windows from implosion and the damage it can cause to the buildings and people in them.
Aside from protecting the windows and structure of the building, a supplemental window system like the Thermolite Window System can save lives from the deadly dangers of imploding window glass. It can also reduce a buildings total energy use by over 20% which is the second largest variable cost in the hospitality industry behind labor.
About Therm-O-Lite Inc.
Since 1979, Therm-O-Lite has been a leading innovator in supplemental interior window systems. Therm-O-Lite a GSA-certified contractor and work with the hospitality industry, governmental agencies, the U.S. military, commercial renovators, and historical preservation projects.
The patented Thermolite Window System is a one-of-a-kind alternative to traditional replacement or energy windows. This 100% customized window system is designed to provide best in class energy cost return on investment, superior protection against bomb blast, audio espionage and hurricanes while reducing noise, sealing the building envelope and preserving historic architectural integrity.
For more information, please visit: ThermoliteWindows.com.